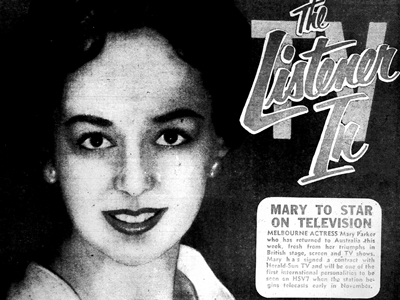 Mary Fitzgerald, one of the first TV presenters on Melbourne television, has died in hospital in Melbourne after a short illness, surrounded by family.
Born Mary Parker in England, she grew up in Melbourne after her family relocated to Australia. One of her brothers was Michael Parker, who went on to be private secretary for Prince Philip, the Duke of Edinburgh, and who was depicted in the Netflix series The Crown. In 2018, she defended her late brother, publicly criticising The Crown for presenting a complete fabrication of his role with the royal family.
Although she grew up in Melbourne, she was soon back in England performing on London's West End, in films and on BBC television, where as well as acting she also hosted her own show, Saturday Night Date.
Her experience in working on live television at the BBC put her in good stead in securing the first female presenting role on Melbourne television at the new station HSV7 — with the channel billing her as "an international personality". She described her presenting technique as an informal, intimate style. "I made a very natural approach to viewers. If you come into the lounge after dinner it is nicer to have a chat with someone than listen to a formal exposition. I tried to think of a particular family I knew and would speak to them — not eight million people. Each family got the intimate effect that the program was just for them," she told The Listener In-TV.
Before starting at HSV7, she visited TV stations in New York and Cleveland to study commercial television techniques there, noting that despite her BBC background it was expected that Australian television would likely adopt a more American style.
She appeared on HSV7's opening night, on 4 November 1956, as the weather presenter alongside newsreader Eric Pearce. Listener In-TV described her role as "making the weather the topic of conversation with viewers. She will explain the weather map and, using diagrams, will give forecasts from the weather bureau." TV listings at the time noted that Parker would present weather segments twice each night.
In a 2018 interview on 3AW, she recalled that each day she had to drive to the weather bureau offices to collect the maps, charts and diagrams and be briefed on all the weather terminology and details, before driving back to the HSV7 studios to put the script together for the night's weather segments.
Also during HSV7's first week on-air, she debuted as co-host of the chat show Eric And Mary with Pearce, and hosted her own interview show, Guest Of The Week.
In 1957, she married portrait artist Paul Fitzgerald. Their wedding featured in The Australian Women's Weekly. They had seven children and with her husband's work taking him overseas, where he would paint subjects including Queen Elizabeth II, Prince Charles, Pope John XXIII and Vivien Leigh, she devoted her life to their family. Though this limited opportunities for her to resume her career, in her later years she appeared on television dramas including a guest role on Blue Heelers.
Her son-in-law Tim Lee is an ABC journalist and has published a tribute to Mary Fitzgerald on the ABC website.
Source: Listener in-TV, 15 September 1956, 3 November 1956. The Australian Women's Weekly, 20 March 1957. 9Honey, 3AW, St Vincent's Care.