Gaynor Bunning, one of the early stars of Melbourne television, died last week in Mooloolaba at the age of 82.
She had been suffering from dementia.
Born in Geelong, she began performing at the age of four. By the time she was 11-years-old, she was a member of the radio variety show, Swallow's Juniors.
When television arrived, she was one of the performers on the request show Teenage Mailbox, appearing with Heather Horwood and Ernie Sigley. The program later became The Teenage Show, airing for an hour on Saturday afternoons. In 1962 she hosted The Gaynor Bunning Show on ABC.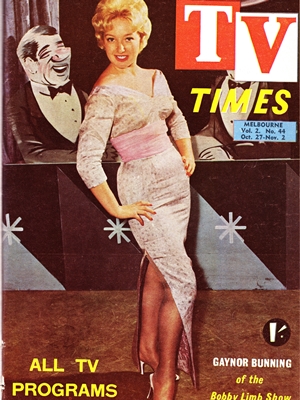 She also appeared on variety shows including On Board The Southern Cross, Fancy Free, Bandwagon, The Bobby Limb Show, In Melbourne Tonight and Penthouse Club.
She then married and moved to Queensland where she ran a business with her husband.
Years later, she reunited with Ernie Sigley and appeared as a guest judge on Pot Luck.
Gaynor Bunning is survived by husband Graham Whyte, two sons and their families.
Source: TV Tonight, IMDB, History Of Australian Music. TV Times, 28 July 1960, 27 October 1960,  1 August 1962, 7 October 1972. TV Radio Extra, 8 August 1987