Gladiators is gone!
Hey Hey It's Saturday's Daryl Somers has hosed down predictions from rival Seven Network that the 25-year-old show will struggle to rate in 1996. While he acknowledges that Seven's Gladiators is having some success in the Saturday night battle, he notes that success come down to demographics. "If you look at the demographic of their show, they are attracting 5 to 12-year-olds," he told TV Week. "We are in a very strong position because we have the 18-to-35 age group sewn up. As far as advertising agencies are concerned, that's the important aspect of all this." And in a bid to keep the show fresh, Somers has signed up Australia's Funniest Home Video Show host Jo Beth Taylor to join the show. "We've always been a very blokey show and we've existed very successfully under that banner," Somers said. "There has not been a conscious effort to keep women off the show but I felt that we should make an effort to address the imbalance. Jo Beth is an extremely talented girl. She has flair and a natural personality, which I think is essential for our show."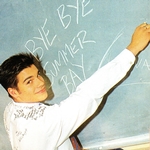 Daniel sails away from home
Home And Away star Daniel Amalm is the latest of the show's teen actors to leave the series. Amalm, who has played the part of Jack Wilson for three years, is hoping to crack into the music industry. Before joining Home And Away he had trained as a guitarist and has since been experimenting with fusing Spanish-Latin guitar with rap for a single to be released later this year. "I'm looking forward to it, because I'm going to get stuck into things and try and create an original style," he told TV Week. Amalm's exit from the series will see his character Jack go off to join the navy.
TV cops shoot it out
The rivalry between the Seven and Nine networks has now extended to cop dramas, with Seven's Blue Heelers now getting a challenge from Nine's new Water Rats. Seven tried to rain on Nine's parade by a last-minute schedule change that saw Blue Heelers return for 1996 with a movie-length double episode on a Monday night, right up against the movie-length debut of Water Rats. But since then Blue Heelers has settled back into its regular Tuesday night slot, and Water Rats is gaining a popular following on Mondays. The irony in the network rivalry over the shows is that both have come from the same producer — Hal McElroy — but he won't get caught up in comparing the two shows. "I just hope that people will view the success of Blue Heelers and Water Rats as an encouragement to the whole industry and not just a particular triumph for Hal," he told TV Week. "I think the success is good for everybody." Blue Heelers star John Wood (pictured with co-star Lisa McCune) is also talking down any suggestion of rivalry between the shows and supports the idea that there is plenty of room for both dramas to thrive. "From what I've seen of Water Rats, it appears to be action based, whereas we are character based," he told TV Week. "Blue Heelers has more of an English influence, whereas Water Rats is probably more American-based."
Briefly…
Rebecca Gibney, a familiar face on Nine's Halifax fp, is to take on roles both in front and behind the camera for a new mini-series being planned for Seven. Kangaroo Palace is set to tell the story of four Australians who set off on a journey of discovery to London in the 1960s.
Wedding bells will soon be ringing in Home And Away… or will they? Summer Bay's stuffy school principal Donald Fisher (Norman Coburn) is set to pop the question to Marilyn (Emily Symons), although Seven has not confirmed whether or not the couple (pictured) will actually make it down the aisle.
Joining Wendy Hughes in the cast of Ten's new drama State Coroner is a supporting cast including Elaine Smith (Neighbours), Christopher Stollery (The Flying Doctors), Nick Carrafa (Neighbours, Acropolis Now), Bob Baines and Elise McCredie. Production on the show's two-hour telemovie pilot is to begin soon in Melbourne.
Although ABC has decided not to go ahead with a proposed youth comedy show called Fat City, it has announced plans to launch a new Saturday morning pop culture-music show, Recovery. Described as a cross between former ABC shows Beatbox and The Factory, Recovery is set to debut later this month.
TV's Top 20 (Week Commencing 25 February 1996): 
| | | | | |
| --- | --- | --- | --- | --- |
| Rank | Program | Network | Day(s) | Viewers |
| 1 | ER | Nine | Thu | 1921000 |
| 2 | Blue Heelers | Seven | Tue | 1887000 |
| 3 | National Nine News | Nine | M-F | 1737000 |
| 4 | Better Homes And Gardens | Seven | Tue | 1678000 |
| 5 | JAG | Seven | Mon | 1670000 |
| 6 | A Current Affair | Nine | M-F | 1661000 |
| 7 | National Nine News | Nine | Sun | 1612000 |
| 8 | 60 Minutes | Nine | Sun | 1606000 |
| 9 | The Great Outdoors | Seven | Tue | 1577000 |
| 10 | The X Files | Ten | Wed | 1577000 |
| 11 | Election '96 | Nine | Sat | 1544000 |
| 12 | Great Aussie Bloopers | Seven | Wed | 1526000 |
| 13 | Ellen | Seven | Thu | 1493000 |
| 14 | Weddings | Nine | Wed | 1478000 |
| 15 | Our House | Nine | Wed | 1463000 |
| 16 | The Simpsons | Ten | Wed | 1412000 |
| 17 | Water Rats | Nine | Mon | 1412000 |
| 18 | The Nanny | Ten | Sun | 1400000 |
| 19 | National Nine News | Nine | Sat | 1350000 |
| 20 | Home And Away | Seven | M-F | 1342000 |
Program Highlights (Melbourne, March 16-22):
Saturday: Ken Sutcliffe and Max Walker are back with another season of Wide World Of Sports (1pm, Nine). The 90-minute special The Crawford Story (8.30pm, Nine) presents a nostalgic look at the shows to come from producers Hector and Dorothy Crawford.
Sunday: In Banjo Paterson's The Man From Snowy River (6.30pm, Nine), Matt (Andrew Clarke) is held responsible when the government decides to take back land. The Final of the Cricket World Cup (8.30pm, Nine) is live from Lahore, Pakistan. Simon Baker-Denny (pictured) and Judith McGrath (A Country Practice, Prisoner) star in Blind Side Breakaway (8.30pm, ABC), this week's episode of Naked: Stories Of Men. Sunday night movies are The Sum Of Us (Seven) and Sneakers (repeat, Ten).
Monday: In Neighbours (6.30pm, Ten), the police stakeout of the Kennedy house goes horribly wrong when Cody Willis (Peta Brady) is shot. In Water Rats (7.30pm, Nine), police investigating the death of a recreational diver assume it was accident, while the insurance company claims it was suicide. Garry McDonald and Magda Szubanski (pictured) host 40 Years Of Television (8.30pm, Seven), a look back at Australian television through the years — featuring footage of programs from all networks, including The Aunty Jack Show, The Box, The Mavis Bramston Show, Blankety Blanks and Bellbird. Guest presenter Amanda Keller presents a segment on the show dedicated to the sacred sites of Australian TV, including Wentworth Detention Centre (Prisoner), Ramsay Street (Neighbours), Russell Street Police Headquarters (Homicide) and the apartment block that depicted Number 96.
Tuesday: In GP (8.30pm, ABC), Maureen (Melissa Jaffer) becomes the guardian of a teenage girl after the death of a close friend.
Wednesday: In Home And Away (7pm, Seven), Shannon (Isla Fisher) tells Alex (Nick Freedman) she's moving in with him. In Fire (9.30pm, Seven), Seldom (Damian Pike) is no closer to breaking Jimmy Runyon's (Kim Gyngell) insurance scam, so he enlists the help of an old friend, Arson Squad Detective Jean Diamond (Liddy Clark, pictured). In Pacific Drive (10.55pm, Nine), a disillusioned Tim (Darrin Klimek) almost drowns and is rescued by Callie (Danielle Spencer) and Luke (Steve Harman).
Thursday: In Neighbours (6.30pm, Ten), Luke's (Bernard Curry) entry into the police force is threatened when he misses an obstacle in the agility course.
Friday: In Neighbours (6.30pm, Ten), Toadie (Ryan Moloney) is about to quit the accelerated learning program. In Home And Away (7pm, Seven), Alex (Nick Freedman) gives Shannon (Isla Fisher) a ring, confirming his commitment to her; and Sally (Kate Ritchie) learns the identity of her father.
Source: TV Week (Melbourne edition), incorporating TV Timesand TV Guide. 9 March 1996. Pacific Publications Pty Ltd.