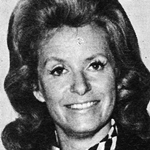 Pat Lovell, film producer and former TV host best known as Miss Pat from Mr Squiggle, has died at the age of 83 following complications due to liver cancer.
Starting her career in radio at the ABC, in 1960 she replaced Gina Curtis as host of the Wednesday edition of ABC's Children's TV Club which included the Mr Squiggle segment before Miss Pat and the pencil-nosed puppet were given their own show.
Speaking on interview program Talking Heads in 2006, Lovell recalled her start in television:
"Dick Parry rang me and said, 'Look, could you come in and try.' I said, 'I've had no training.  I don't know anything about television.' And the only instructions I was given, 'Pat, there are two cameras. When the light goes on, you know, look at that one.' And that was it."
By the end of the 1960s as well as appearing with Mr Squiggle on ABC, Lovell was also a panelist on Seven's daytime program Beauty And The Beast and co-host of the morning news program Today.  She had also appeared in an episode of children's series Skippy The Bush Kangaroo.
Lovell continued to appear alongside Mr Squiggle until the mid-1970s.
After television she went on to a career in film production — including titles Picnic At Hanging Rock, Break Of Day, Summerfield, Gallipoli and Monkey Grip.
In 1978 she was awarded an MBE for her contribution to the film and television industries and was appointed a member of the Order of Australia in 1986.
Pat Lovell is survived by son Simon and daughter Jenny.  She was divorced from husband, actor Nigel Lovell.
Source: IMDB. Daily Telegraph. Talking Heads. Sydney Morning Herald, 2 July 1979.