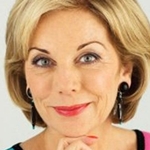 Journalist, media identity and ambassador for various social and health issues, Ita Buttrose was last night (Friday) named Australian Of The Year for 2013.
Her media career was predominantly in magazines and newspapers — most notably as the founding editor of women's magazine Cleo in the 1970s and later editor of The Australian Women's Weekly and newspaper The Daily Telegraph — but she has also worked in radio and television.
She was a television presenter in the 1980s for both the Nine and Ten networks, including the role of commentator for Ten's coverage of the royal wedding of Prince Charles and Princess Diana in 1981 — and thirty years later fulfilled a similar role for the Nine Network's coverage of the wedding of Prince William and Kate Middleton.
The rise of her career through the Packer magazine empire in the 1970s (under Sir Frank Packer and later his son Kerry) was documented in the 2011 mini-series Paper Giants: The Birth Of Cleo, where she was played by Asher Keddie.  She was also featured in an episode of SBS' ancestry series Who Do You Think You Are?
Buttrose has also led awareness campaigns for various issues including HIV/AIDS, breast cancer and prostate cancer. She is also National President of Alzheimer's Australia and Vice President Emeritus of Arthritis Australia.
Buttrose was the NSW state entrant for the Australian Of The Year award.  Western Australia's entrant was media businessman Kerry Stokes, currently chairman of Seven West Media which includes the Seven Network and newspaper The West Australian.  He was formerly a significant stakeholder in the Ten Network, owning affiliate stations in Perth, Adelaide and Canberra, and had previously owned the regional Golden West Network in Western Australia.  Stokes was nominated to represent Western Australia in recognition of his philanthropy and for his work in preserving ownership of Australia's military heritage including the purchase of several Victoria Cross medals which he donated to the Australian War Memorial.
The Victorian entrant for Australian Of The Year was media and advertising executive Harold Mitchell in recognition for his philanthropic contribution to providing humanitarian aid in Timor-Leste and Indigenous communities.
The Northern Territory's entrant for Young Australian Of The Year was former Australian Idol contestant Jessica Mauboy, who after being runner-up in the 2005 series went on to a successful acting and recording career.  Her high profile has enabled her to support community organisations and promote reconciliation, multiculturalism and healthy living
Also on this Australia Day, a number of television identities were among the hundreds recognised in this year's Australia Day Honours list:
Malcolm Long — "For significant service to the performing arts and to the broadcasting and communications industries."  Long was a former CEO of the Australian Film, Television and Radio School as well as a former Managing Director of SBS and Deputy Managing Director of the ABC.  He has also been a member of the Australian Broadcasting Authority and its successor the Australian Communications and Media Authority.
Deborah Fleming-Bauer — "For service to the television industry."  Bauer has been a long-serving producer for ABC, including The 7.30 Report and Australian Story since its inception in 1996.
Ted Hamilton — "For service to the performing arts, and to the community."  Hamilton (pictured on the cover of TV Week in 1962) was a television entertainer for many years, including early variety shows In Melbourne Tonight, Bandstand and Revue.  He starred in drama series Division 4, hosted The Ted Hamilton Show and was founder and chairman of 'TV Make It Australia' in the early '70s, a prominent campaign to get more Australian content on local television.
Kerry Lonergan — "For service to the media, and to the community."  Lonergan has worked as a journalist for over 40 years, including print, radio and television. He has been with the ABC since 1986, was a former Executive Producer of Landline and has been a specialist commodities reporter, interviewer and commentator since 2007.
Mike Rabbitt — "For service to the community through a range of charitable organisations."  Rabbitt is currently sports presenter for regional network NBN.
Source: ABC, Governor-General of Australia, SBS