Freaked out by the fans!
A Country Practice star Kym Wilson (pictured) laughs at the irony of being feted as one of Australia's brightest rising stars — given it was eight years ago that she made her TV acting debut (alongside Justine Clarke and Rebekah Elmaloglou) in the children's series Professor Poopsnaggle.  "Even though I've been in the industry a few years, it's only in the past 12 months the media has 'discovered me'," she told TV Week.  "It all came at once because Brides Of Christ and my character (Darcy Hudson) in A Country Practice went to air at roughly the same time."  But while Wilson and her boyfriend, Chances star Jeremy Sims, accept that TV fame brings a lot of attention from the public, it can sometimes be intimidating.  "I was out with (Brides Of Christ co-star) Lisa Hensley at a club with our boyfriends, dancing without inhibitions, and Lisa said, 'Kym, all these people are staring at you and it's really weird.  I hadn't even noticed it, but when I turned around and looked, I got self-conscious and sat down.  But if you don't look for it, it doesn't affect you."
Come in, Kerry
Kerry Armstrong has been signed on to replace Rebecca Gibney in the Nine Network sitcom All Together Now.  Best known for her roles in Prisoner and Come In Spinner (co-starring with Gibney), Armstrong has also appeared in US series Dynasty, Murder She Wrote and Miami Vice.  With episodes featuring Gibney set to air into early 1993, Armstrong is set to be seen on screen from around April/May.
The dad Sarah had to live without
When she started on Hey Dad! as a seven-year-old (pictured), Sarah Monahan didn't see the humour in having a series based around a single-parent family.  "When she was told it was a show about a family whose mother had died, and it was a comedy, Sarah got a bit upset," producer Gary Reilly told TV Week.  "She wanted to know how you could make jokes about a lady dying."  Sadly, the young star found out a year later that the single-parent scenario wasn't strictly fiction.  Her real-life father, Brian, died after the first series was made, but he had never seen it go to air.  Monahan, 15, is soon to tape her final scenes with the long-running sitcom as she heads to Europe as an exchange student.
Vikki goes from New York to Phoenix
After 18 months living in New York, former Neighbours, The Flying Doctors and Col'n Carpenter star Vikki Blanche says she's ready for anything.  Her stay in the Big Apple got off to a terrifying start when en route to day one of acting classes she caught the wrong subway, ending up on the wrong side of town — Harlem.  "I was the only white person on the platform and I knew something was seriously wrong," she said.  "I hopped on another subway and realised it was not taking me to where I wanted to go.  Before I knew it, I'd gone from Harlem to the Bronx!"  Now back in Melbourne, Blanche has joined ABC police drama Phoenix as it goes into its second series, playing the part of undercover cop Chris Faithful.  "She's tough, in that she's mixing with crooks, but I don't think she's tougher than anyone else in that environment," she told TV Week.
Briefly…
Despite being the first Aborigine to host a national prime-time program, former ABC journalist and Seven Network Real Life host Stan Grant (pictured) had rarely made reference to his heritage on-air — until a recent interview with US Ku Klux Klan boss Shawn Slater turned sour.  Grant is dismissive of the vicious attack from the American, but he is more sensitive to similar attacks from within his own country.  "The snide racist jokes are just enough to intimidate you," he said.  "It can be hurtful, but you live with it.  I'm always on the defensive."  Grant is pleased with the progress Real Life has made up against stalwart A Current Affair, with the program winning the ratings in Perth and closing the gap in other cities after nine months on air.
Actor Jeremy Callaghan (pictured) says his role as Constable Brian Morley in Police Rescue (ABC) is a dream come true.  "As an acting student in Perth, I used to watch Police Rescue," he said.  "The look of it impressed me — it had a particular style."
Despite the earlier decision by 60 Minutes and A Current Affair to share coverage of the Elle Macpherson tour, the former was subsequently locked out by Macpherson's management when it learned that Richard Carleton would be conducting the interview instead of Mike Munro as originally planned.
Graeme Blundell, Harold Hopkins, Ben Franklin and Bob Baines are the latest to sign up for ABC's upcoming docu-drama Joh's Jury, the story of the deliberations of the jury in the recent trial of former Queensland premier Sir Joh Bjelke-Petersen.
Former A Country Practice star Lorrae Desmond has gone to great lengths to preserve her early TV past.  She has spent thousands of hours collecting and restoring the only remaining 12 hours of footage she could find of her 1960s variety show The Lorrae Desmond Show, the program which won her a Gold Logie in 1962 (pictured).  "I checked with the National Archives to see when they could restore the film and they said they had so much work it's be 10 years before they could get to mine.  By then it would have deteriorated, so I paid for it."
ABC has described rumours of its popular Mother And Son series being picked up by a commercial network as "silly".  The national broadcaster says the rumour started following news that Garry McDonald, who plays Arthur in Mother And Son, is working on a comedy series for the Seven Network as his former alter-ego Norman Gunston.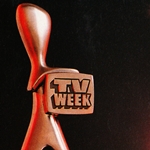 Lawrie Masterson: The View From Here
"There has, of course, been a lot of comment about the "war" between the TV Week Logie Awards and the People's Choice Awards, which are being run by the Seven Network with what appears to be the increasingly tepid backing of Woman's Day magazine.  So there is no confusion between the two sets of awards, who owns them and how they are decided — the TV Week Logie Awards are, always have been and, as far as I'm concerned, always will be TV Week's property.  It will remain the prerogative of TV Week and its parent company Southdown Press to change or fine-tune the awards categories and to negotiate rights for Logies telecasts as they see fit.  At the end of the day, the Logies still will belong to TV Week.  Logies for popularity will still be awarded on the votes of our readers, and Logies for excellence will still be decided by peer voting (in the case of acting) with panels of people with demonstrably proven expertise in particular fields (news, public affairs and documentaries).  Thus, the public and the industry have their say — a system which, to my knowledge, is unique in the world.  Certainly I can't think of a more fair way to decide awards which cover all manner of TV entertainment and information."
Program Highlights (Melbourne, 18-24 October):
Sunday:  Rural affairs program Landline (ABC) presents a special report on the increasing rate of youth suicide in regional Australia.  Nine's Our World features the documentary Along The Tracks With Malcolm Douglas, featuring three famous outback tracks: the Oodnadatta, the Birdsville and the Strzlecki.  Sunday night movies are Narrow Margin (Seven), Look Who's Talking Too (Nine) and The Great Outdoors (Ten).
Monday:  In Healthy Wealthy And Wise (Ten), Robbie Burns looks at old factories and warehouses that have been converted into modern homes and apartments.
Tuesday:  Travel series Holiday (ABC) returns with new episodes.  In Beyond 2000 (Seven), Simon Reeve investigates the possibility of space power, Tracey Curro tries on a wet suit that will revolutionise deep water diving, and Dr John Darcy looks at a device that can predict where back pain will occur.
Wednesday:  ABC presents documentary Barry Humphries' Profile, featuring Barry Humphries discussing with Melvyn Bragg the influences that led him along his extraordinary career path and looks at the relationship between himself and his creations.  In Acropolis Now (Seven), Effie (Mary Coustas) confesses her love for Lars (Simon Wilton).
Thursday:  In Police Rescue (ABC), Kathy (Tammy MacIntosh, pictured) must deal with a tragic loss with help from the other members of the squad.
Friday:  Comedian and radio host Richard Stubbs hosts the Friday night edition of Tonight Live (Seven).
Saturday:  Seven launches its new health and lifestyle series Live It Up, hosted by Trisha Goddard and including segments by Dr Derek Llewellyn-Jones, sex therapist Dr Rosie King and chef Stefano Manfredi.
Source: TV Week (Victoria edition), incorporating TV Times and TV Guide. 17 October 1992. Southdown Press.