'She's no sleaze!'
Former A Country Practice star Georgie Parker (pictured) has defended her Acropolis Now character, flight attendant Despina Hatzipapadopoulos who is something of a perpetual 'good-time' girl.  "She is the one who's saying, 'I go out with other people but you're the one I love'," Parker told TV Week.  "It's the kind of line a guy would normally give a girlfriend."  But despite her initial fears that Despina would present an image of a woman with loose morals, Parker says there is more to the character.  "She is not sleazy, as far as I'm concerned.  She's doing her own thing, whether that means going out with other guys or seeing Memo (George Kapiniaris)."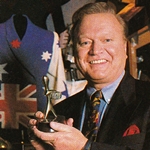 Logies '93: Bert's back!
TV Week announces that Bert Newton (pictured) is returning to the stage of the TV Week Logie Awards to host the 1993 presentation to be telecast on Network Ten.  It will be Newton's 18th hosting of the Logies — a record that may never be equalled.  "I suppose the advantage is that I started so young," Newton told TV Week.  "I think I was 26 when I did my first Logies.  I was the youngest ever compere and now (at 54) I'll be the oldest."  Having hosted numerous Logies nights for Nine, and once for Seven, it now means Newton will have hosted the awards across all three commercial networks.  "In years gone by, probably because of personal bias, I couldn't see anything against Nine having them all the time," he said.  "But I believe now that rotating the Logies around the networks is a true indication of what the awards are all about.  I think it's fair that they should be shared… unless Ten can get them permanently!"
Just clowning around
The Fast Forward team are looking less than resplendent in circus outfits while trying to summons up the excitement needed for a circus scene being shot while battling the wind and rain across a busy Melbourne intersection.  Cast member Peter Moon (pictured with co-star Marg Downey) is asked if he will be embarrassed or bewildered when, 20 years down the track, he looks at pictures of the scene.  "I won't have to wait 20 years — I had flashes of it while we were shooting," he laughs.  "I'm standing here in a tutu in the rain and thinking I could have been a lawyer.  But you develop a thick skin when you've done a bit of comedy.  You lose that embarrassment factor, to a point."  The circus theme will run through the new series of Fast Forward and in some respects, according to Moon, it reflects the show's attitude to some of its critics as it nears the end of its fourth year.  "I suppose it's a sign that we are facing up to some of the people who have said we've run out of ideas.  It's a metaphor for a couple of tired old clowns."  Moon, who also works for Melbourne radio station Fox FM, is uncertain of his future with the show.  "I love Fast Forward and I think i could make a contribution if it comes back again, but there are these other things I've wanted to do for a while, too."
The Jones jackpot!
Melbourne radio hosts Bruce Mansfield and Philip Brady were unaware that they'd scored quite a scoop with a recent interview with legendary Pick A Box contestant Barry Jones (pictured) on their 3AW program Remember When.  Jones, who made 208 appearances on the classic quiz show between 1960 and 1968, rarely discusses those days and his press secretary later told Brady that had Jones known that the focus of the radio interview would be on Pick A Box then he would never have agreed to take part.  "We'd have been in terrible trouble if Barry had decided to hang up," Mansfield told TV Week.  "You could tell the reluctance in his voice, but to his credit he carried on and we relaxed him after a while." — and the same edition of Remember When also included an interview with former It Could Be You and Pot O' Gold host Tommy Hanlon Jnr.  Hanlon admitted that he walked away from hosting daytime talent show Pot O' Gold in the late 1970s because resident judge Bernard King was too harsh on contestants.  "But that was Bernard's style," he said.
Briefly…
Good Morning Australia co-host Joy Smithers will not be returning to the show following her holidays.  The network line that she is too busy with her commitments to children's program The Shorn Sheep Show.
The Seven Network has responded to rumours that game show The Main Event will not be back in 1993.  "We've heard the rumours too, but it's a popular show," a spokesperson said.  "A final decision still hasn't been made."
Some details are emerging about the 'hush-hush' drama Nine has commissioned from Village Roadshow Pictures to be produced on the Gold Coast.  It is said to be an "iron-men" soapie tipped for a 5.00pm Monday to Friday timeslot.
Forrest Redlich, executive producer of E Street, has said that production of a series based around pop group the Teen Queens (pictured) could be taking place in the UK, with financial backing from England and Japan, following a lack of interest from local networks.  "This is not your standard sitcom.  There is a lot of location work involved and we are shooting it on 16mm film.  I've tried the local networks but as soon as you mention dollars, people don't want to know," he told TV Week.  "We have no choice but to go overseas.  We have the money in the bank for 13 episodes."  The proposed series is set in 1962 and tells the story of three girls who win a church talent quest in the country and move to Sydney to make the big time.
Loose Talk:
"You might as well go on Burke's Backyard, because your electoral chances are rooted, Paul." — Andrew Denton (to Prime Minister Paul Keating), Live And Sweaty, ABC.
"As my grandmother said, if you can't say anything nice, say it in Greek." — Memo (George Kapiniaris), Acropolis Now, Seven.
Program Highlights (Melbourne, October 11-17):
Sunday:  Afternoon sport includes Mercantile Mutual Cup (cricket), live from Perth on Nine, and the Final of the Australian Indoor Championship (tennis) from the Sydney Entertainment Centre on Ten.  Journalist John Pilger is this week's guest on Bookchat (ABC) and film producer Gillian Armstrong is the guest on Sunday Afternoon With Peter Ross (ABC).  Sunday night movies are The Naked Gun (Seven), Memphis Belle (Nine) and Mountains Of The Moon (Ten).
Monday:  In A Country Practice (Seven), Darcy (Kym Wilson) falls in love with thrill-seeker Michael DiAngelo (Bruce Hughes), while Terence (Shane Porteous) and Rosemary (Maureen Edwards) help a dialysis patient to participate in the local eisteddfod.  In Healthy Wealthy And Wise (Ten), Ross Greenwood gives advice on how to prepare your home for sale and get the best price, and Iain Hewitson cooks up an Irish Stew.  Tonight Live (Seven) is presented this week from New York.
Tuesday:  In GP (ABC), William (Michael Craig) questions the credibility of top orthopaedic surgeon Andrew Fielding (Phillip Hinton) when creative accounting and malpractice take place.  In Inside Edition (Ten), Peter Luck presents a special report pondering the question: Is the heart residing in the Institute of Anatomy really that of legendary racehorse Phar Lap?
Wednesday:  ABC's Wednesday night special is Dancin' Dynamite, featuring singer/dancer/choreographer/producer David Atkins with Debbie Byrne, Sheree Da Costa and the Electric Legs Dancers.  In E Street (Ten), Toni (Toni Pearen) becomes increasingly disturbed by CJ's (Adrian Lee) erratic behaviour.
Thursday:  In Police Rescue (ABC), a drug bust gets complicated when Rescue becomes caught between the criminals and the cops.  In Hard Copy (Ten), Gordon Elliott presents the story of two exotic dancers involved in a murderous game.  One claims the other wanted her killed and hired a hit-man to do the job.
Friday:  ABC has an Australian movie double — Monkey Grip, starring Noni Hazlehurst, Colin Friels and Harold Hopkins — and Undercover, starring Genevieve Picot, Sandy Gore and John Walton.
Saturday:  SBS begins daily coverage of highlights from the Pacific Power Commonwealth Bank Classic, the eight-day cycle race from Coffs Harbour to Canberra.
Source: TV Week (Melbourne edition), incorporating TV Times and TV Guide. 10 October 1992.  Southdown Press.