This week, ABC celebrates its 90th anniversary.
Sure enough, 40 years ago was ABC's 50th anniversary. Like it is this week, in 1982 the national broadcaster had a number of special projects to mark the occasion.
For its 50th, ABC's major television production was a mini-series, 1915, a dramatised version of the novel by Roger McDonald.
1915 had a cast of over 70, headed by Scott McGregor, Scott Burgess, Sigrid Thornton and Jackie Woodburne. The supporting cast included Bill Hunter, Lorraine Bayly, Ilona Rodgers, Richard Moir, Serge Lazareff, Andrew McFarlane, Mark Hembrow, Noel Hodda, Anne Haddy, Ron Graham, Maurie Fields, Adrian Wright, Martin Vaughan, Deborah Kennedy, Shirley Cameron, James Condon, Norman Coburn and Arna-Maria Winchester.
The series of seven 50-minute episodes told the story of friends Walter Gilchrist (McGregor) and Billy MacKenzie (Burgess) from the remote Australian town of Bindogundra. Their lives take a dramatic turn with the outbreak of World War I. 1915 follows not only the men going to battle but also what happens to their families and the girlfriends (played by Thornton and Woodburne) they leave back in Australia.
1915 was over 18 months in the making. The remote NSW town of Quandialla was used as the setting of Bindogundra, and various Australian locations were utilised to recreate foreign battle scenes, interspersed with actual historical footage.
Although ABC was reportedly cagey about disclosing the cost of the ambitious production, it was believed to be around $2.5 million — a huge sum for an Australian TV production in the early 1980s. The cost might have been of ultimately little consequence given that the series was sold to over 40 countries, including to PBS in the United States and to the BBC. The success of 1915 seemed to create a demand for Australian programming in the US, with ABC selling 15 titles to American television, predominantly to cable channels, during the 1982-83 financial year, up from as low as one title only a couple of years earlier.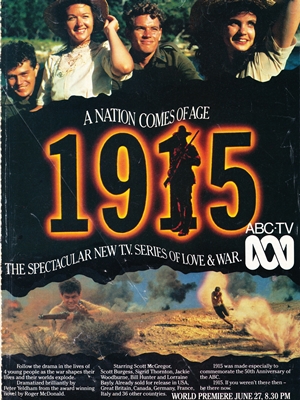 1915 debuted on ABC on 27 June 1982 as a two-parter, and with single episodes continuing over coming weeks in the 8.30pm Sunday timeslot. It ended up winning two TV Week Logie Awards in 1983 — for Best Single Drama/Mini-Series and Best Supporting Actor in a Single Drama/Mini-Series (Adrian Wright) — and four Penguin Awards from the Television Society of Australia.
ABC also commemorated its 50th anniversary week with a musical drama Quiros (broadcast in simulcast with ABCFM), tracing the story of Portugese sailor and navigator Pedro Fernandez de Quiros and his attempts to discover Terra Australis in the 17th century; the 90-minute special, 50 Years Of The ABC: From Carbon Mikes To Satellites; the special Jubilee Showcase: A Musical Potpourri, recorded at the Sydney Town Hall; and the series returns of Towards 2000, Home Sweet Home and The Saturday Show.
Source: IMDB. TV Week, 23 January 1982, 26 June 1982. TV Radio Extra, 26 June 1982. 51st Annual Report Of The Australian Broadcasting Commission, 1982-83.