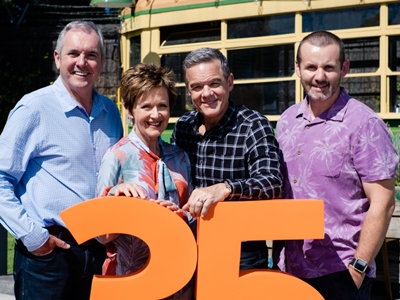 Network Ten has announced the schedule for the final week of Neighbours — bringing the long-running series to an end after 8903 episodes.
Production for the series wound up last month after producer Fremantle cancelled the show in March, following the withdrawal of financial support from UK broadcaster Channel 5.
In Australia, the series will screen in 90-minute episodes at 6.30pm from Monday 25 July on 10Peach, with the final episode airing on Thursday 28 July at 7.30pm on both 10Peach and the main Ten channel.

YouTube: 10 Insider
The final episode was originally scheduled to air on 1 August in sync with Channel 5. With Ten bringing forward the airdate to July, Channel 5 has responded by re-scheduling the final episode to air in the UK on Friday 29 July in a prime-time special at 9.00pm.
Meanwhile, ABC will present a half-hour news special, Neighbours: End Of The Road, on Monday 11 July at 9.35pm. ABC journalist Margaret Paul, a confessed Neighbours fan, takes a look at the impact the series has made, goes behind the scenes as the final episodes go into production and gets an insight into some of the challenges Neighbours has faced as it churned out over 200 episodes a year. The special includes interviews with executive producer Jason Herbison, TV historian Andrew Mercado and former cast members Ian Smith and Anne Charleston.
Source: Paramount ANZ, Digital Spy