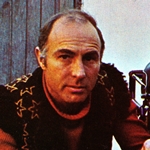 Ron Graham, actor on stage, film and television, has died peacefully at the age of 93.
Born in England, Graham started performing when he joined the circus at the age of 16. After completing National Service, he enrolled in a drama course and then came to Australia. For the next 20 years he worked mainly in the theatre and did some television work, including appearances in Whiplash, Contrabandits and Riptide.
In 1969, he played the newspaper baron John Mason in the ABC play Dynasty, which went on to a series in 1970-71.
He then played the part of Alan Stone in the ABC series Certain Women for four years.

YouTube: FrozenDoberman
Other TV credits included Mrs Finnegan, The Spoiler, Spyforce, Matlock Police, Division 4, Homicide, Glenview High, Cop Shop, Waterloo Station, Whose Baby, 1915, A Country Practice, Blue Murder, Heartbreak High, GP and Home And Away.
He is survived by son, actor Marcus Graham.
Source: Daily Telegraph, IMDB. TV Times, 7 October 1970, 14 August 1971.