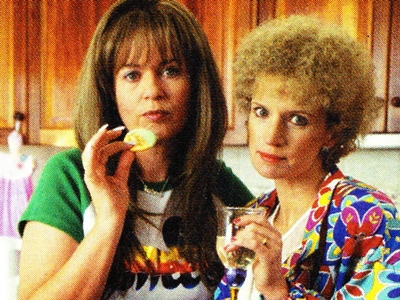 It's time to crack open the Bailey's and put on the Footy Franks, Kath And Kim turns 20 today.
The initial series of eight episodes debuted on ABC on 16 May 2002, though the characters and premise of the show was born some years earlier as a series of sketches in Big Girl's Blouse and Something Stupid.
Kath And Kim, following the antics of Kath Day (Jane Turner), her daughter Kim (Gina Riley), Kath's fiancé (and later husband) Kel Knight (Glenn Robbins), Kim's husband Brett (Peter Rowsthorn) and second-best friend Sharon (Magda Szubanski), was a huge hit for ABC. Viewers loved the suburban setting and cultural references as well as the phrases, mostly formed by Kath and/or Kim's mangling of the English language, that became familiar colloquialisms.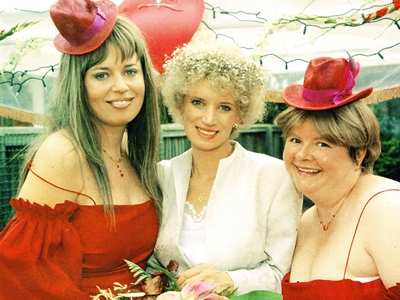 The first series revolved around the engagement and wedding plans for divorcee Kath and her 'hunk-a-spunk' boyfriend Kel, while recently-married Kim returns to her mother's house following a break up with husband Brett. The second series follows the rekindling of Kim and Brett's relationship and the pending arrival of their baby daughter, Epponnee Rae.
A third series ran on ABC in 2004, followed by a telemovie, Da Kath And Kim Code, in 2005, before the announcement that the fourth series would be made by the Seven Network in 2007.
The series and telemovie also featured an impressive array of guest stars, including Marg Downey, William McInnes, Vince Colosimo, Tony Martin, Mick Molloy, Mark Holden, Mark Trevorrow, Annette Allison, Jane Menelaus, Glenn Butcher, Kate Atkinson, Rachel Griffiths, Judith Lucy, Lynda Gibson, Shane Warne, John Clarke, Sibylla Budd, Gerry Connolly, Barry Humphries, Rove McManus, Andrew O'Keefe, Matt Lucas, Michael Bublé, Geoffrey Rush and Kylie Minogue.
Kath And Kim went on to win three TV Week Logies and four AFI Awards before producing a movie spin-off, Kath And Kimderella, and the concept being franchised to NBC to produce an American version.
But while Kath And Kim continues to live on with free-to-air and streaming re-runs, the "effluent" waterfront house in Patterson Lakes that was the central point of the series has only recently been demolished.