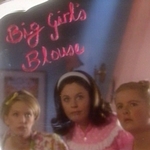 It is 20 years ago today that Big Girl's Blouse made its television debut.
The sketch comedy series, featuring Fast Forward co-stars Gina Riley, Jane Turner and Magda Szubanski, initially aired as a one-hour special on 13 October 1994 before eight half-hour episodes were screened during 1995.
Big Girl's Blouse introduced us to Kath Day (Turner), her daughter Kim (Riley), and Kim's second best friend, sports-loving Sharon (Szubanski) in a sequence of sketches leading up to Kim's wedding to fiancé Brett. The characters were revisited again in the later series Something Stupid, as Kim was preparing for the birth of her baby, while divorcee Kath had met 'hunk-a-spunk', Nev (Glenn Robbins).
The Kath and Kim sketches formed the basis for the spin-off series Kath And Kim, featuring the same cast with the addition of Peter Rowsthorn as downtrodden husband Brett, and Robbins' Nev is re-named Kel. Kath And Kim became a huge success, running for four series (three by ABC and one by Seven), a telemovie (Da Kath And Kim Code) and feature film (Kath And Kimderella) as well as being adapted for the US market by NBC.
Big Girl's Blouse also took us behind the scenes of women's magazine 'Big Girl's Blouse' — with one of their major crises being the threat of legal action from Kylie Minogue after the magazine claimed that she was pregnant — and followed a week in the high-pressure production of children's show Play School.
Drag queens Carlotta (Riley) and Frantique (Turner) gave us their take on current events with their Community Access Television show What A Drag (with the pair emerging from behind a shower curtain), and we were educated on the social mores of the 1960s with groovy Patty Stoker (Riley, pictured).
The political grind of the suburban ladies tennis circuit was examined in 'Midweek Ladies', a sketch inspired by a recent ABC documentary on the inner workings and power struggles within the Australian Labor Party:

YouTube: Classic Aussie Comedy
We saw the pushy showbiz mother (Riley) dragging her 'child star' daughter (Szubanski) to Kay Karnt's (Turner) children's talent agency — after pyjama-clad Szubanski's real life appearance in a Sorbent commercial — and we followed the awkwardly-daggy shopping buddies Thalia (Szubanski) and Evelyn (Turner) as they hit the "groovy" fashion stores.
The show interviewed veteran choreographer Coralee Hollow (Riley), the creator of the famed 'Channel 9 Run', accompanied by husband Ross (Szubanski) and their pet dogs — Geoff and Harvey — and we saw Home And Away starring Hollywood legends Katherine Hepburn (Szubanski, pictured), Joan Fontaine (Turner) and Bette Davis (Riley).
And we realised that women all over Australia have the undying urge to stalk and ravage Michael Douglas!
Big Girl's Blouse was released on DVD in 2006.