The 62nd annual TV Week Logie Awards were meant to happen tonight, 28 November. While the awards will not be taking place — for a second year in a row — we continue the annual rundown of past Logies presentations to coincide with what would have been this year's Logies weekend. We wrap up the weekend with the Logies of 2011 — 10 years ago:
Today host Karl Stefanovic  was awarded the TV Week Gold Logie for Most Popular Personality on Australian Television at the 53rd annual TV Week Logie Awards, held on 1 May 2011 at Melbourne's Crown Palladium.
It was the Nine Network's first Gold Logie win since Ray Martin last won the award in 1996.
Stefanovic's Gold win came on the back of an aggressive marketing campaign by Nine which encouraged viewers to send in SMS votes to get him over the line. Other nominees Rebecca Gibney, Jessica Marais, Chrissie Swan, Adam Hills and Asher Keddie were also promoted by their respective networks, but Nine's "Vote for Karl" campaign was certainly the most prolific.
The Today host even mentioned the campaign in his acceptance speech.
The campaign attracted some criticism as being a "tacky" stunt as opposed to having talent judged on its own merits. Seven's then news chief Peter Meakin told Crikey, "Karl's a really nice guy, I regard him as a mate. But I just think this was tacky."
Stefanovic's Gold was his second Logie on the night. Earlier in the evening he'd been awarded the Silver Logie for Most Popular Presenter.
The Nine Network also scored three Logies for its Underbelly instalment, Underbelly: The Golden Mile, including Most Outstanding Drama, and Firass Dirani walking away with the two New Talent awards.
Seven's popular Packed To The Rafters (pictured above) won Most Popular Drama, and actor Hugh Sheridan was awarded Most Popular Actor.
The Seven Network was also awarded Most Outstanding Factual Program for the special Trisha And Krishna: The Quest For Separate Lives, and the long-running Better Homes And Gardens won Most Popular Lifestyle Program.
Seven News won the Logie for Most Outstanding News Report for its coverage of the New Zealand mine disaster.
Ten's reality hit MasterChef Australia won the award for Most Popular Reality Program. Ten also picked up awards for Bondi Rescue for Most Popular Factual Program, and Offspring's Asher Keddie (pictured) won for Most Popular Actress. It was her first Logie win although she had been nominated for Logies in past years based on her roles in Love My Way and Underbelly.
Ten's morning show The Circle (pictured) won Most Popular Light Entertainment Program, while co-host Chrissie Swan (pictured far right) may have missed out on the Gold but did take the Most Popular New Female Talent award.
ABC collected a number of awards this year.  Richard Roxburgh won Most Outstanding Actor for his role in Rake, and Claire van der Boom won Most Outstanding Actress for her role in Sisters Of War. ABC3's Dance Academy won Most Outstanding Children's Program, and Spicks And Specks won Most Outstanding Light Entertainment Program. The Four Corners story "Struggler's Paradise" won Most Outstanding Public Affairs Report.
Jana Wendt appeared on stage to induct former colleague Laurie Oakes into the TV Week Logie Awards' Hall of Fame.  There were congratulatory messages from Julia Gillard,Tony Abbott, John Howard, Kevin Rudd and ABC presenter Kerry O'Brien.
Performer Eddie Perfect and comedy trio Tripod presented a moving tribute to those in the television and showbusiness industries that have left us over the past twelve months.
Other music performances on the night came from Katy Perry, Maroon 5 and Jessie J.
Megan Gale, Andre Rieu and Rachel Griffiths were among the guest stars to hand out awards.
Shane Bourne courageously took on the role as host that invariably draws criticism, and succeeding to lead the night with good humour and without wearing out his welcome.
GOLD LOGIE – Most Popular Personality on TV
Karl Stefanovic (Today, Nine)
SILVER LOGIE – Most Popular Actor
Hugh Sheridan (Packed To The Rafters, Seven)
SILVER LOGIE – Most Popular Actress
Asher Keddie (Offspring, Ten)
SILVER LOGIE – Most Popular Presenter
Karl Stefanovic (Today, Nine)
MOST POPULAR NEW MALE TALENT
Firass Dirani (Underbelly: The Golden Mile, Nine)
MOST POPULAR NEW FEMALE TALENT
Chrissie Swan (The Circle, Ten)
MOST POPULAR DRAMA SERIES
Packed To The Rafters (Seven)
MOST POPULAR LIGHT ENTERTAINMENT PROGRAM
The Circle (Ten)
MOST POPULAR LIFESTYLE PROGRAM
Better Homes And Gardens (Seven)
MOST POPULAR SPORTS PROGRAM
The Footy Show (AFL) (Nine)
MOST POPULAR REALITY PROGRAM
MasterChef Australia (Ten)
MOST POPULAR FACTUAL PROGRAM
Bondi Rescue (Ten)
OUTSTANDING AWARDS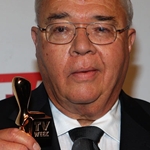 GOLD LOGIE — TV WEEK LOGIE AWARDS' HALL OF FAME
Laurie Oakes
SILVER LOGIE – Most Outstanding Drama Series, Miniseries or Telemovie
Underbelly: The Golden Mile (Nine)
SILVER LOGIE – Most Outstanding Actor
Richard Roxburgh (Rake, ABC1)
SILVER LOGIE – Most Outstanding Actress
Claire van der Boom (Sisters Of War, ABC1)
GRAHAM KENNEDY AWARD FOR MOST OUTSTANDING NEW TALENT
Firass Dirani (Underbelly: The Golden Mile, Nine)
MOST OUTSTANDING NEWS COVERAGE
"New Zealand Mine Disaster" (Seven News)
MOST OUTSTANDING PUBLIC AFFAIRS REPORT
"Smugglers' Paradise" (Four Corners, ABC1)
MOST OUTSTANDING LIGHT ENTERTAINMENT PROGRAM
Spicks And Specks (ABC1)
MOST OUTSTANDING SPORTS COVERAGE
The Ashes 2010 First Test – Day One at the Gabba (Nine)
MOST OUTSTANDING CHILDREN'S PROGRAM
Dance Academy (ABC3)
MOST OUTSTANDING FACTUAL PROGRAM
Trishna & Krishna: The Quest For Separate Lives (Seven)
[This is a revision of a post that was published in 2011]
Source: TV Week, 14 May 2011. Crikey