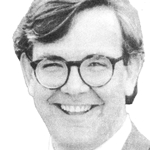 While other current affairs shows may have skirted around describing themselves as 'tabloid', Hard Copy went into it unashamedly with its mix of sensationalist stories, loud music and over-the-top headlines.
The Australian version of Hard Copy, debuting on Network Ten on 19 September 1991, was a franchise of the American show of the same name. It was hosted by Gordon Elliott (pictured), a former co-host of Good Morning Australia who had made a name for himself on American television in shows like A Current Affair and Good Day New York, both for Fox. He hosted the Australian Hard Copy from a studio in Los Angeles, commuting each week from New York where he continued his local TV commitments there.
At the time of its Australian debut, Elliott described Hard Copy to TV Week: "It brings the extraordinary lives of ordinary people to the public. The stories are wonderful melodramas. It's real-life soap opera and I think the viewers will love it."

YouTube: the news is
Producing Hard Copy was former News Limited journalist and Good Morning Australia producer Peter Brennan, who'd been producing the American A Current Affair for three years, inspired by the original Mike Willesee current affairs shows in Australia but, as Elliott put it, "gave it more punch".
Brennan was then put in charge of the American Hard Copy, successfully boosting its ratings, and then leading the Australian spin-off.

YouTube: the news is
As well as featuring international stories, Ten's Hard Copy also had its own team of locally-based reporters: Richard Willis, Iain Gillespie, Jane Hansen and Meni Caroutas.
Hard Copy continued on Ten for just two years, coming to an end after 88 episodes.
The debut of Hard Copy is among the latest addition of Classic TV Guides:
Source: TV Week, 21 September 1991.