It is 30 years ago since the mini-series Brides Of Christ debuted on ABC.
The six-part series, set in a Sydney convent in the 1960s, starred Josephine Byrnes, Lisa Hensley, Kym Wilson, Naomi Watts, Michelle Pettigrove, Pippa Grandison, Beth Champion, Sandy Gore as Mother Ambrose (pictured right) and Brenda Fricker as Sister Agnes.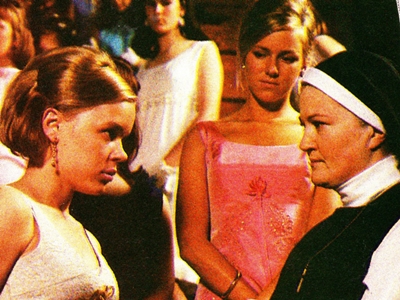 Also featured in the series are Simon Burke, Russell Crowe, Harold Hopkins, Michael Craig, Paul Williams, Damon Herriman, Joy Hruby, Philip Quast, Melissa Thomas, Caroline Gillmer, Melissa Jaffer, Anne Tenney, Louise Pajo, Syd Conabere, Russell Newman, Pat Bishop, Genevieve Mooy and Michael Winchester.
Debuting on 4 September 1991 and screening twice a week over three weeks, each episode focused on a different character as they are caught up in the clash between the traditional disciplines and values of the church and the social upheaval in the wider community.
Produced at a cost of $6.2 million and in partnership with Channel 4 in the United Kingdom and RTÉ in Ireland, Brides Of Christ was a ratings hit for ABC — earning the network its highest ratings ever for a drama series. It was also broadcast on the A&E cable network in the United States.
The series collected five TV Week Logie awards the following year — including two awards for Josephine Byrnes (Most Popular Actress In A Telemovie Or Mini-Series and Most Outstanding Actress On Australian TV), Most Popular New Talent for Kym Wilson, Most Popular Telemovie Or Mini-Series and Most Outstanding Telemovie Or Mini-Series.
The series also won AFI (now AACTA) awards for Best Mini Series or Telefeature, Best Achievement in Direction in a Television Drama, Best Screenplay in a Television Drama and Best Performance by an Actress in a Leading Role in a Television Drama (Lisa Hensley).
ABC re-run the series in November 1992, and Network Ten screened it again over three nights in October 1993, before it returned to ABC for another run in January 1997. It was released on DVD and was more recently available on ABC iView.
Source: AACTA, IMDB, Wikipedia. TV Week, 31 August 1991, 7 September 1991, 14 September 1991, 21 September 1991, 21 March 1992, 14 November 1992, 23 October 1993.