Cover: Woody Harrelson, Jackie Swanson (Cheers)
Here comes the bride… twice!
A Country Practice comes to the end of the 1992 season with a wedding between town vet Anna Lacey (Anne Looby) and Sgt Tom Newman (Jon Concannon).  In typical soap wedding style, not everything goes to plan.  Anna's mother Barbara (Olivia Hamnett) arrives in town and doesn't approve of Tom.  She also reveals some heartbreaking news that Anna could be a carrier of a congenital disease — leading to Tom and Anna considering calling the wedding off.  However the wedding does proceed, but the newlyweds later discover that it isn't legal — so they end up getting married 'again' in a smaller, church wedding the next day.
Beverly Hills 3000?
The popularity of US teen series Beverly Hills 90210 has led to Network Ten commissioning a new 26-part series, City High.  The new Melbourne-based series, set in the drama department of a performing arts college, boasts a cast of 34 actors.  Executive producer David Armstrong will also appear in the series as a gay drama teacher whose partner is to be played by Ken James (Skippy The Bush Kangaroo, The Box, Skyways).  City High is expected to be scheduled in the 8.30pm timeslot.
Tonight Live… and Sweaty?
Although Andrew Denton (pictured) has vowed he'll never work for commercial television, he is currently being wooed by Tonight Live producer Steve Vizard.  And although Denton has said he won't be doing Live And Sweaty again, ABC is not about to let him go easily — there are currently high-level negotiations to keep him at the national broadcaster although it has yet to find him a new venture.
Briefly…
Some ABC faces have been spotted in the corridors of the Seven Network as the network produces a pilot for its planned new Sunday current affairs program.
Rumours persist that E Street is soon to be axed, with Network Ten giving Neighbours another 12 months to improve itself.
Since the success of the movie Strictly Ballroom, actress Tara Morice has been inundated with scripts and offers from TV soapie and drama producers, but she isn't interested.  "The networks did want me," she laughs.  "But I'd really like to do some more film work.  There are a few things coming up, so to get tied down to a show is probably not too good for me now."
The career of Australian journalist Steve Dunleavy, now based in New York as host of the Fox network's A Current Affair, is set to be the topic of a Hollywood movie now in development — but rumours that he will be played by Paul Hogan are news to Hogan's management.  Dunleavy, who admits that he used to be a friend of Hogan's, said he would like an Aussie to play the role but says he would prefer Mel Gibson!
Lawrie Masterson: The View From Here
"It speaks volumes for the popularity currently enjoyed in this country by cricket — particularly one-day cricket — that a match between Queensland and NSW was able to attract a rating of 10 on a recent Sunday afternoon in Melbourne.  That figure is particularly interesting because, at the same time, two Melbourne-based teams were locked in battle in the deciding final of the National Basketball League.  Australia's basketball showpiece — its climax for the year, and an exciting game it was — could only manage an average of only about 13, with a 20 peak.  It is a respectable figure, but it rounds off what has been a triumphant season for the South East Melbourne Magic, but a whitewash for Network Ten."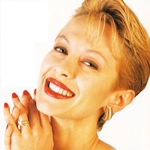 Loose Talk
"Are you sexier than John Hewson?" — David Johnston (to Prime Minister Paul Keating), Meet The Press, Ten.
"I don't want to pronounce that word (bimbo) because it does not exist in my vocabulary." — Wheel Of Fortune's Adriana Xenides (pictured), Real Life, Seven.
"I can remember when people thought Tom Jones was pornographic." — Kerry O'Brien, Lateline, ABC.
Program Highlights (Melbourne: November 15-21):
Sunday:  Afternoon sport includes gold (SA Open) on ABC, cricket (West Indies Tour — Australia v West Indies, from Hobart) on Nine and the Uncle Toby's Super Series Ironman from Surfers Paradise on Ten.  Sunday night movies are National Lampoon's Christmas Vacation (Nine), Death Wish 4: The Crackdown (Ten) and the debut of two-part mini-series Cruel Doubt (Seven).
Monday:  In Neighbours (Ten), an emotional time for Pam Willis (Sue Jones, pictured) takes her into the arms of Jim Robinson (Alan Dale, pictured).  Motoring writer Peter Wherrett joins the Healthy Wealthy And Wise (Ten) team, presenting tips on preparing cars for Christmas and some basic maintenance.  ABC begins a re-run of mini-series Brides Of Christ, screening over six consecutive nights.
Tuesday:  In Beyond 2000 (Seven), Dr John D'Arcy test drives the noiseless family car, Bryan Smith investigates a new treatment for breast cancer sufferers that may get rid of the tumour in a matter of minutes, and Tracey Curro looks at a new design that makes train travel a lot safer.  SBS presents the documentary The Last Coming Out, looking at the effect of AIDS and HIV upon Australians from non-English speaking backgrounds, with the statistic that 20 per cent of the 1500 Australians that have died from AIDS-related illnesses came from non-English speaking backgrounds.
Wednesday:  Ray Martin presents a two-hour special Good Blokes And Superstars, featuring interviews from Midday with Sylvester Stallone, Tom Cruise, Patrick Swayze, Mel Gibson, Michael Crawford, Rob Lowe, Tom Jones, John Farnham, Anthony Warlow and Imran Khan.  SBS debuts a three-part series Short Films Big Dreams, a tribute to Australia's short-filmmakers focusing on the students and graduates of the Australian Film Television and Radio School.
Thursday:  Travel show Getaway (Nine) looks at some of Australia's "big" tourist attractions — including the Big Teapot, the Big Guitar, the Big Captain Cook and the Big Pineapple.
Friday:  SBS crosses to the Darling Harbour Convention Centre, Sydney, for the draw of the Seventh World Youth Championships for the FIFA/Coca-Cola Cup to be staged in Australia next March.  The special, to be broadcast to an estimated worldwide audience of 47 million, features performances by the Bangarra Dance  Theatre Company and pop group Radio Freedom.
Saturday:  Glenn Ridge and Rachel Friend present Nine's telecast of the Myer Christmas Parade from Melbourne.
Source: TV Week (Melbourne edition), incorporating TV Times and TV Guide.  14 November 1992.  Southdown Press.