Reg Gorman, the actor best known as Jack Fletcher, the barman in The Sullivans, has died a few days after his 89th birthday. The actor had been battling cancer.
His granddaughter, actress Olivia Deeble, posted the news to social media on Thursday.
With a background in theatre and vaudeville, Gorman made guest appearances in early television dramas Whiplash and Consider Your Verdict.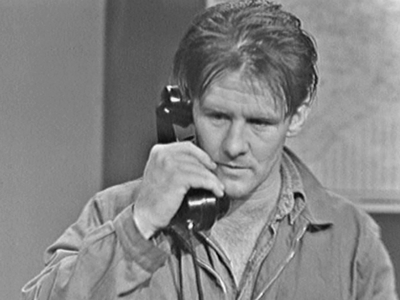 He went on to appear in Homicide (pictured above), Contrabandits, Skippy The Bush Kangaroo, I've Married A Bachelor, Riptide, The Rovers, Woodinda Animal Doctor and Barrier Reef before his first regular TV role in the sitcom Mrs Finnegan in 1970.
After appearances in Boney, Division 4, Our Man In The Company, Matlock Police, The Bluestone Boys, Bluey and Rush, Gorman scored his next ongoing role as Jack Fletcher in The Sullivans. He stayed with the popular drama for its entire six-year run.
He continued to appear in many Australian series in the decades to follow, including I Can Jump Puddles, The Henderson Kids, Prisoner, A Country Practice, The Man From Snowy River, The Wayne Manifesto, Neighbours, Something In The Air and as Harry Patterson in the children's comedy series Fergus McPhail.
Among his last credited roles are guest appearances in ABC comedies Problems, Woodley and Get Krackin'.
Reg Gorman is survived by wife, actress Judith Roberts, three children, including actresses Kate and Charmaine Gorman, and granddaughter Olivia Deeble.
It is with great sadness that we announce the passing of REG GORMAN, absolute legend of the Australian performing arts. True gentleman, a kind, gentle, generous man. He will be greatly missed 💔 pic.twitter.com/fsEK6o3Viz

— JM Agency (@AgencyJM) August 5, 2021
Source: IMDB, Olivia Deeble. TV Times, 24 March 1971. TV Week, 19 January 1980