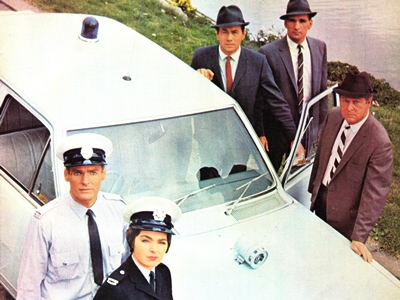 Division 4 was one of the trifecta of police dramas from Crawford Productions that came to define Australian television drama in the late 1960s and early 1970s.
The series was born after Crawfords and the Nine Network were in a conundrum over what to do with its popular spy drama, Hunter. The show's lead actor Tony Ward had resigned and producers were unclear whether to re-cast the title character or even promote Kragg (Gerard Kennedy), a former rival of Hunter, to the lead. Eventually they decided to let the show come to an end while Crawfords developed a new series for the network.
The new proposal was titled Saints And Sinners but eventually became Division 4 as a starring vehicle for Kennedy.  Division 4 centred around a police station in the fictional Melbourne suburb of Yarra Central. Kennedy led the cast as Senior Detective Frank Banner. The initial cast line-up also included Chuck Faulkner, a former policeman and a news presenter in the very early days of television, Frank Taylor, Terence Donovan, Ted Hamilton (a former TV variety star making his acting debut) and Adelaide actress Patricia Smith.
Unlike its Seven Network counterpart Homicide, Division 4 would take a broader look at crime in suburbia — including murders, assaults, prostitution, vandalism, theft, drugs, abortions, pornography and blackmail. But like Homicide, many of the stories depicted were inspired by real life cases, and Victoria Police were involved in a consultancy capacity.
Division 4 debuted on GTV9, Melbourne, on 11 March 1969, and on TCN9, Sydney, on 15 April 1969.
Reviews of early episodes were largely positive and, ironically, sometimes at the expense of the five-year-old Homicide. Paul Edwards for TV Week wrote: "Nine's new morale-booster could very easily establish itself as the best series Australia has ever produced… much to the chagrin of the people at the rival Seven Network."
"From the opening "teaser" — which immediately established characters and conflicts — the show never let up. We had swearing, drinking, extra-marital sex, crime, corruption, an assortment of sleazy molls and all sorts of goodies. If this standard can be continued, Division 4 looks set to move straight into division one."

YouTube: CrawfordsAustralia
In contrast, Gordon Williams at TV Times was not so impressed after the first few episodes: "Division 4, which began effectively on GTV9, soon degenerated in too-broad scripting and a kind or amorality in a subsequent showing, a trend that, it is to be hoped, will not be followed by Homicide."
Ratings were good, and eventually GTV9 increased the show's output to two episodes a week. Gerard Kennedy, who won a TV Week Logie in 1969 for his role in Hunter, went on to win five Logies for his work in Division 4 — including the Gold Logie for most popular television personality for two years in a row. During much of Division 4's run, Kennedy was often on the cover of TV Week.
Patricia Smith won a Logie Award for Best Actress in 1972, and Division 4 won Logies for Best Drama Series in 1970 and 1972.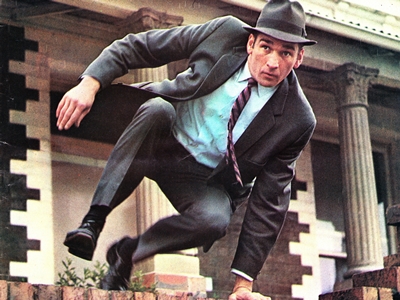 Despite its ongoing popularity — even after six years it was still in the top three rated programs — the Nine Network put the axe to Division 4 early in 1975. The network claimed that the series was squeezed out of the network's $10 million production budget already taken up by new projects including The Unisexers, The Last Of The Australians, Luke's Kingdom, Shannon's Mob and the return of The Graham Kennedy Show.
Gerard Kennedy, who was already planning to leave the show, made his final appearance in episode 299, with John Stanton replacing him for the 300th and final episode. Stanton's character, Detective Tom Morgan, was intended to be ongoing but the show's axing brought that to an abrupt end.
The axing of Division 4 marked the start of an alarming trend. By the end of the year, Crawford Productions' two other cop dramas, Homicide and Matlock Police, were also axed by their respective networks.
In 2016, Studio 10 reunited three of the show's cast to talk about the long-running series:

YouTube: Studio 10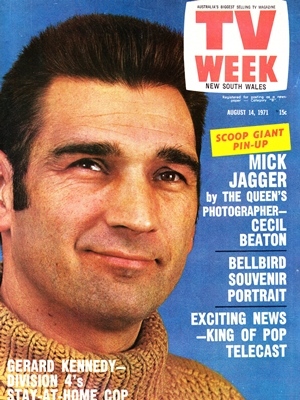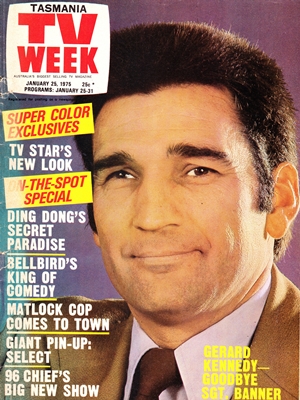 Source: TV Week, 29 March 1969, 12 July 1969, 24 October 1970, 14 August 1971, 26 February 1972, 4 August 1973, 25 January 1975.  TV Times, 9 April 1969, 8 February 1975. Classic Australian Television.