Last week marked the 40th anniversary of the debut of Prisoner.
Most of the actors from the series had come from established acting backgrounds, though for many it was Prisoner that made them household (and even international) names even though they were not necessarily strangers to television.
So what were some of the Prisoner cast doing before they became indelibly associated with Wentworth Detention Centre. Here's just a few from the archives. Some you may be familiar with, others less so:
Elspeth Ballantyne (Meg Jackson/Morris) had a long running role in the serial Bellbird, but before then she had a guest role, playing the part of a showgirl, in a 1964 episode of Homicide (pictured with Frances McDonald)
Sheila Florance (Lizzie Birdsworth) played the part of a motel owner in Homicide in 1971, pictured with John Ewart and Noni Wood. In the same year she played the part of wealthy country town matriarch Grace Falconer in the drama series Matlock Police.
Betty Bobbitt (Judy Bryant) was an air hostess in the ABC play Flight Into Danger (pictured above with Ray Taylor) in September 1966.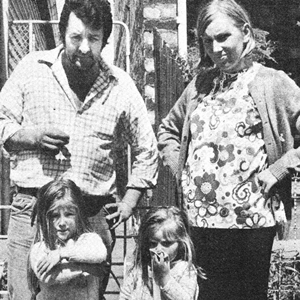 Maggie Millar (Marie Winter) and Tommy Dysart (Jock Stewart) played husband and wife in an episode of Homicide. Millar, who was also known for an ongoing role in Bellbird as a doctor, won a TV Week Logie Award in 1976 for her performance in Homicide.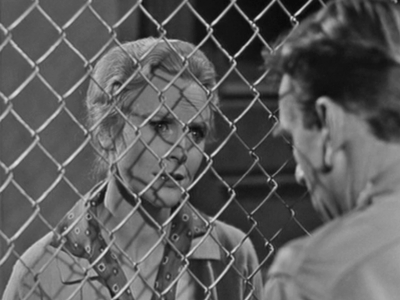 Patsy King (Erica Davidson) making a guest appearance in an early episode of Homicide. She played the wife of a convicted killer. Ironically, a number of her scenes feature her visiting her husband (played by Leonard Teale) in prison. The following year, King was appointed one of the presenters for the new ABC children's show Play School.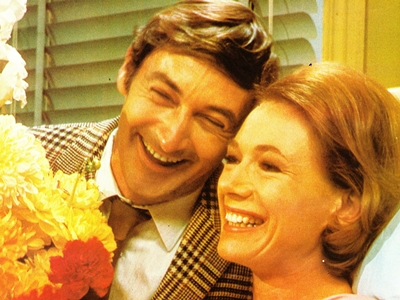 Gerda Nicolson (Ann Reynolds) played Fiona Davies in Bellbird, pictured with her on-screen husband Dennis Miller, who at the time was married in real life to Elspeth Ballantyne. Before Prisoner, Nicolson had also played a police officer in the Seven Network series Bluey.
Colette Mann (Doreen Anderson Burns) played trainer and fiancée to John Jarratt in the ABC play The Champion.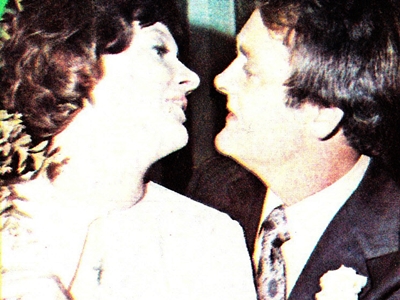 Anne Phelan (Myra Desmond) and Ian Smith (Ted Douglas) played husband and wife Russell and Kate Ashwood in Bellbird.
Phelan also starred in the ABC's musical production of The Sentimental Bloke in 1976 (pictured with Jon Finlayson and Laine Lamont)
Ernie Bourne (Mervin Pringle) about to clobber Maurie Fields (Len Murphy and others) in a 1975 episode of Homicide. Bourne was earlier a cast member in the children's series Adventure Island, while showbiz veteran Fields also featured in variety shows like Sunnyside Up and had an ongoing role in Bellbird.
Joy Westmore (Joyce Barry) as Cleopatra in a comedy sketch with Ernie Sigley on The Ernie Sigley Show in 1974. Westmore was also a regular on shows like The Graham Kennedy Show and featured in The Sentimental Bloke.
Amongst some prior credits for other Prisoner stars: Peta (then Peita) Toppano (Karen Travers) had starred in Alvin Purple and The Young Doctors; Kerry Armstrong (Lynn Warner) had been a weather presenter (pictured) for GTV9 in Melbourne; Jackie Woodburne (Julie Egbert) had starred in Outbreak Of Love, Cop Shop and 1915; and Sigrid Thornton (Roslyn Coulson) had appeared in Homicide, Matlock Police, Bobby Dazzler and Father Dear Father In Australia.
Source: TV Times, 13 July 1966, 14 September 1966, 22 February 1975, 7 June 1975, 19 July 1975, 10 January 1976, 10 July 1976. TV Week, 13 April 1974. Listener In-TV, 20 February 1971