Stone the flamin' crows! Alf Stewart has been honoured this Australia Day.
Ray Meagher, the actor now in his 30th year Home And Away's Alf, has been awarded an Order of Australia Medal (OAM) in this year's Australia Day Honours.
The honour is in recognition of Meagher's "service to the performing arts as an actor". Although he is most famous from Home And Away, Meagher has appeared in numerous other roles over his long career.
Other credits have included television series Matlock Police, Prisoner, A Country Practice, Kingswood Country, Skyways, A Fortunate Life, Five Mile Creek, A Fortunate Life and The Great Bookie Robbery.
Film credits include Newsfront, Money Movers, The Chant Of Jimmie Blacksmith and The Odd Angry Shot.
He is the only original cast member of Home And Away to still be in the series almost 30 years on, and won a TV Week Gold Logie Award in 2010 (pictured).
Other television identities from past and present to be recognised in this year's honours included: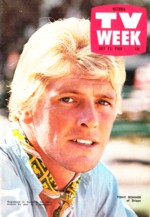 Tony Bonner (AM) — "For significant service to the performing arts as an actor, to surf lifesaving, and to the community through charitable organisations." Bonner first rose to fame as helicopter pilot Jerry King in the series Skippy The Bush Kangaroo in the 1960s. Other TV credits include The Box, The Evil Touch, Marion, Homicide, Power Without Glory, Carson's Law, Outbreak Of Love, The Last Frontier and Anzacs. He had leading roles in Cop Shop and Skyways and won awards for his role in the 1978 ABC telemovie End Of Summer.
John Edwards (AM) — "For significant service to the broadcast media industry as a television producer, and as a role model and mentor." Edwards has worked as producer on various productions including Cyclone Tracy, Police Rescue, Cody, Big Sky, The Secret Life Of Us, The Alice, Love My Way, Offspring, Rush, Paper Giants: The Birth Of Cleo, Paper Giants: Magazine Wars, Puberty Blues, Party Tricks, Gallipoli and The Beautiful Lie.
Peter Hitchener (OAM) — "For service to the broadcast media as a journalist and television presenter, and to the community." Hitchener's journalism career began in Queensland in the 1960s before moving south to Sydney in 1973 and Melbourne in 1974. He served as deputy newsreader at Melbourne's GTV9 for over 20 years before being promoted to chief newsreader in 1998.
Kay McGrath (OAM) — "For service to children, and to the broadcast media as a journalist." McGrath was a reporter and newsreader at Eyewitness News, Brisbane, in the 1980s before a stint co-hosting TVAM for Seven in Sydney. She returned to Brisbane in 1989 to present Seven Nightly News. She is now weekend newsreader for Seven News in Brisbane.
Barry Minster (OAM) – "For service to the community, particularly through support for charitable organisations." Minster has been an outside broadcast manager for ABC and Seven in Melbourne before going freelance. Production credits include the 2000 Olympic Games in Sydney, 2004 Olympic Games in Athens and 2006 Commonwealth Games in Melbourne.
Andrew O'Keefe (AM) — "For significant service to the broadcast media as a television presenter, and to social welfare and charitable organisations." O'Keefe was a writer and performer in the sketch comedy series The Big Bite. He was co-host on Australia Unites: Reach Out To Africa and the 2005 TV Week Logie Awards and host of The Rich List, Deal Or No Deal, Dragon's Den and The Chase Australia. He is co-host of Weekend Sunrise on Seven.
Julie Raines (OAM) — "For service to the performing arts as a musician and teacher." Harpist Raines was a winner on the Showcase talent quest series. She has performed on In Melbourne Tonight as well as Carols By Candelight and TV Week Logie Awards.
Source: Governor-General Of Australia.