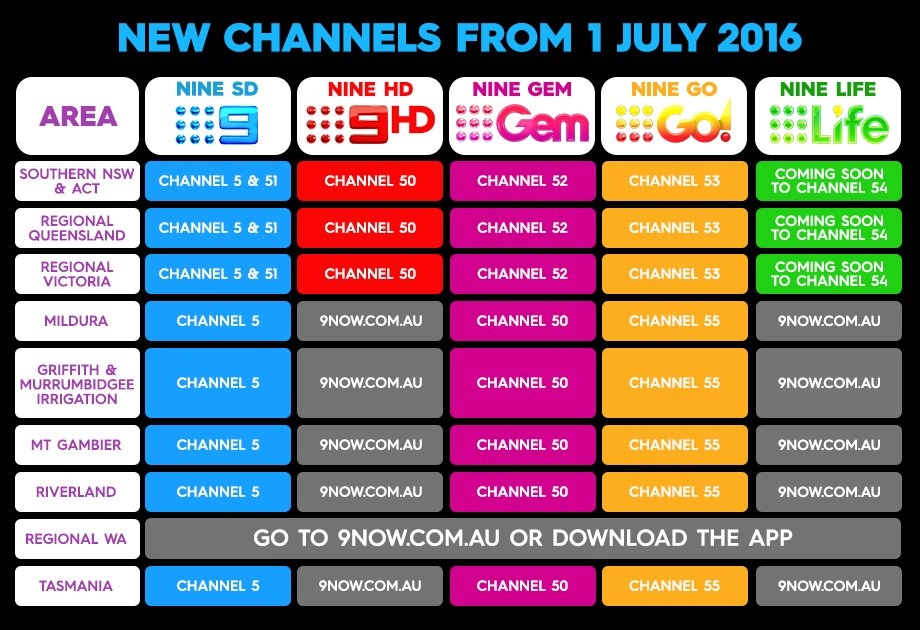 Image: Southern Cross Austereo
At midnight last night television history was made with the biggest upheaval to regional television since aggregation kicked off almost 30 years ago.
The catalyst for the change was Southern Cross Austereo, which operated a Network Ten affiliate in much of the eastern states, had signed a deal to change its affiliation to the Nine Network in the markets of Regional Queensland, Southern NSW/ACT and Regional Victoria.
As a result of Southern Cross Austereo's move, rival network WIN, which had been primarily a Nine Network affiliate since the late 1980s, had forged a new agreement with Network Ten for the same markets as above but also for Mildura, Tasmania, Griffith and Regional Western Australia.
The changes were seen on-air from midnight last night as digital channel 5 changed from Ten programming to Nine, WIN channel 8 started carrying Network Ten programs, and a whole lot of swapping around with the multi-channels including 9Gem, 9Go, 9HD, One and Eleven.
Northern NSW, which includes the Gold Coast and Central Coast, Spencer Gulf/Broken Hill, Darwin and remote central Australia were about the only regional markets not touched by any changes.
But while all these changes were taking place some losers emerged. Viewers in regional Western Australia were to lose programming on their third commercial network, West Digital Television, as it had failed to come to an agreement with Nine over program supply details. West Digital, a joint venture between Prime7 and WIN, had been previously carrying the Network Ten signal but with WIN taking over Ten on its channel this left West Digital with having to agree to new terms with Nine. Negotiations were not to come to a resolution by midnight, so instead of switching to Nine programming, West Digital's channels were left no option but to switch to screening a continuous loop of tranquil scenes of rural Australia — a glorified test pattern.
The same scenario was likely to have also taken place in Tasmania, where WIN took over the Network Ten signal, leaving Tasmanian Digital Television to strike up a deal with Nine. An agreement between TDT and Nine was very late in the making, with a deal being done late last night to ensure that Nine programs would continue to be shown in Tasmania.
In a statement issued by Prime Media Group and WIN on behalf of West Digital, the joint venture owners will endeavour to negotiate terms over the coming days to have Nine Network programming reinstated in regional Western Australia.
In the meantime viewers who are not seeing Nine Network programs can access them online via Nine's viewing portal 9NOW.