Cover: Teri Hatcher (Lois & Clark The New Adventures Of Superman)
Hanging out for Big Girl's Blouse!
Magda Szubanski, Jane Turner and Gina Riley were as much in the dark as viewers were about whether or not Seven was going to screen the remainder of their sketch comedy series Big Girl's Blouse. The series kicked off back in February but was pulled from the schedule after only three of the planned eight half-hour episodes had gone to air. "We didn't know what was going on," Szubanski told TV Week. "It could have disappeared into the black hole of programming. But it didn't matter — it was only the culmination of 35 years' work!" The Seven Network has now finally decided to screen the entire series from the beginning — as four one-hour episodes while fellow comedy series Full Frontal takes a break. "At least now I can shut up everyone in the street who keeps coming up to me and asking when the show's going to be on," Szubanski said.
Steve goes for the doctor
The arrival of actor Steve Bisley (pictured) to the cast of GP marks a new look for the long-running series. "I had been offered other stuff, commercial stuff, but I guess it was just a matter of me sitting down and looking at things," he told TV Week. "I really like the integrity of the show (GP) and I like the issues that they tackle." The series will take on a new look, with tougher storylines and a more bustling feel than the soft suburban look of the past. "It has a new look, certainly, in terms of energy. It was decided that, if the show was to go on, there had to be a possibility of change," Bisley said. His character, ex-army doctor Henry King, is the replacement for Martin Dempsey (Damian Rice) and brings a certain amount of personal baggage. He is separated from his wife, Jenny (Anne Tenney), and his children. "He's a vulnerable bloke, and I hope there's a warmth to him," Bisley said. "He stands for what a lot of men are going through."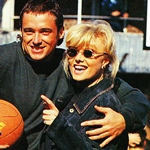 Flat out Furness!
Returning to Australia after ten years in the US has been a huge career boost for actress Deborra-lee Furness. "I've never worked so hard before in my life," she told TV Week. Since coming back to Australia she has starred in Fire for the Seven Network, Halifax fp and Singapore Sling for the Nine Network, the feature film Angel Baby and now in ABC's new series Correlli. "I'm loving being back in Australia and being able to work in my own accent," she told TV Week. In Correlli she plays the lead role of prisoner psychologist Louisa Correlli, who has returned to work after taking time off to raise her children. "She's idealistic and wants to make a difference," she said. "I wanted to make her three-dimensional. She's confident and strong, but also insecure. She can't do everything, although she likes to think she can." Much of the drama in Correlli centres on the relationship between Louisa and prisoner Kevin Jones (Hugh Jackman, pictured with Furness). "It's an interesting relationship. It's a meeting of minds, which they both recognise immediately, even though he's a criminal. Louisa must deal with the fact that she is becoming involved and she must decide where the borderline is." Furness will not comment on suggestions she has been romantically linked to Jackman, other than to say that they are friends. "It's been a joy to work with him," she said.
Briefly…
Seven Network weatherman Mike Bailey (pictured) is an avid collector of TV Week magazines — so much so that he's only missed two issues since the magazine was first published in 1957. Because of this he put the call out on Seven's Missing Pieces program to try and track down the two missing magazines!
ABC is to begin production on two new mini-series before the end of the year. The first project, The Bite, follows the story of an international drug conspiracy and is to be filmed in Melbourne, Asia and the UK. The second series, Mercury, is set behind the scenes of a Sunday newspaper in Melbourne.
Barry Humphries is to host a new four-part series, Flashbacks, featuring his various comic creations taking a look back at the modern history of Australia.
Former Police Rescue star Tammy MacIntosh will be guest starring in one of the upcoming The Feds telemovies for Nine.
Actor Bryan Brown is working as producer a new project, Twisted Tales for the Nine Network. The series of 12 episodes will feature unusual stories with a twist, chosen from submissions from independent scriptwriters.
TV's Top 20 (Week Commencing 2 July): 
| | | | | |
| --- | --- | --- | --- | --- |
| Rank | Program | Network | Day(s) | Viewers |
| 1 | National Nine News | Nine | Sun | 2273000 |
| 2 | Home Improvement | Seven | Sun | 2077000 |
| 3 | ER | Nine | Thu | 2047000 |
| 4 | A Current Affair | Nine | M-F | 2043000 |
| 5 | Movie: Assassin | Nine | Sun | 2020000 |
| 6 | 60 Minutes | Nine | Sun | 1969000 |
| 7 | Our House | Nine | Wed | 1948000 |
| 8 | National Nine News | Nine | M-F | 1939000 |
| 9 | Sale Of The Century | Nine | M-F | 1919000 |
| 10 | Getaway | Nine | Thu | 1891000 |
| 11 | Lois & Clark | Seven | Mon | 1890000 |
| 12 | Money | Nine | Wed | 1876000 |
| 13 | World's Greatest Commercials | Seven | Sun | 1808000 |
| 14 | Seven Nightly News | Seven | Sun | 1802000 |
| 15 | Australia's Funniest Home Video Show | Nine | Tue | 1800000 |
| 16 | The Footy Show | Nine | Thu | 1790000 |
| 17 | Blue Heelers | Seven | Tue | 1758000 |
| 18 | National Nine News | Nine | Sat | 1753000 |
| 19 | Burke's Backyard | Nine | Fri | 1735000 |
| 20 | The Nanny | Ten | Wed | 1720000 |
Lawrie Masterson: The View From Here
"Correlli — the latest effort from the ABC's Melbourne drama unit — has many strengths, but leaving this viewer with that warm, fuzzy feeling is definitely not one of them. Or should that, perhaps, be counted as its greatest strength? Locations including a now decommissioned prison at Geelong, Victoria, give the series a realistically foreboding overall look. The casting of some of the leading characters and many of the more minor roles of prison officers and inmates is so good as to be totally convincing. And, if aspects of the basic narrative are just a touch incredible, hey, this is television!"
Program Highlights (Melbourne, July 22-28):
Saturday: The Bledisloe Cup (12pm, Seven), Australia versus New Zealand, is live from Eden Park, Auckland. Beyond 2000 (5.30pm, Ten) looks at the special effects employed in the latest Steven Spielberg movie, Casper. Saturday Night Football (8.30pm, Seven) includes Sydney Swans versus Footscray, live from the Sydney Cricket Ground.
Sunday: AFL Sunday (1pm, Seven) includes Brisbane Bears versus Hawthorn, live from Brisbane, followed by Fremantle versus Richmond, live from Perth, and highlights of the Collingwood versus Carlton match played at the Melbourne Cricket Ground. In Heartbreak High (5.30pm, Ten), Rose (Katherine Halliday) has agreed to marry Jack (Tai Nguyen), but she hasn't told anyone and the wedding day is getting nearer. The Sunday night movie is Accidental Hero (repeat, Nine) up against mini-series The Elizabeth Taylor Story (Seven) and Stephen King's The Stand (Ten).
Monday: Sale Of The Century celebrates its 15th anniversary with a one-hour special (7.30pm, Nine). In the series return of Frontline (8pm, ABC), ratings are down and Frontline's executive producer, Brian (Bruno Lawrence), is given the sack, while his temporary replacement, Ed Forbes (Andrew Clarke) fails to endear himself to the team. (In reality, actor Bruno Lawrence was ill with cancer and unable to appear in the returning series. He passed away a few weeks before this episode went to air)
Tuesday: In Blue Heelers (8.30pm, Seven), following the shooting at the pub, Tom (John Wood) is taken to the hospital unconscious. When Dean (Stig Wemyss) finally confesses and gives the police the location of the farmhouse where the others are hiding, they find Olive (Katherine Mathers) and her injured lover have escaped. Football identity Ted Whitten, ill with cancer, is paid tribute in the special Mr Football: Tribute To A Legend (8.30pm, Nine).
Wednesday: In Neighbours (6.30pm, Ten), Ren (Raelee Hill) has her romantic dreams about Luke (Bernard Curry) analysed by Joan Hanger on a TV show. In the debut of Correlli (8.30pm, ABC), Louisa Correlli (Deborra-Lee Furness) takes on the challenge of being a clinical psychologist at Blackstream Prison, counselling some of the most hardened criminals.
Thursday: In Home And Away (7pm, Seven), Shane (Dieter Brummer) finds himself left out of Angel's (Melissa George) new life when her modelling career takes off.
Friday: In Neighbours (6.30pm, Ten), Libby (Kym Valentine) stirs Billy (Jesse Spencer) about his newfound romance. In Home And Away (7pm, Seven), Chloe (Kirsty Wright) asks Jack (Daniel Amalm) if they can be friends, and Angel (Melissa George) decides to give up modelling. Friday Night Football (9.30pm, Seven) includes delayed coverage of North Melbourne versus Melbourne at the Melbourne Cricket Ground.
Source: TV Week (Melbourne edition), incorporating TV Times and TV Guide. 22 July 1995. Southdown Press