Cover: Teri Hatcher, Dean Cain (Lois And Clark: The New Adventures Of Superman)
Tide turns for Paradise
Village Roadshow, producers of Nine's recently-axed Paradise Beach, are in negotiations with Network Ten over a possible deal to revive the series — similar to what Ten has recently done by taking on A Country Practice after it was axed by Seven, and a decade after doing the same with Neighbours. The deal could see Ten take on the series for a mere $25,000 an episode, plus receiving profits from overseas sales.
Eddie's on the ball!
The surprise success of Nine's new The Footy Show (AFL) has made a star out of its host, former Network Ten sports reporter Eddie McGuire. But McGuire is not getting too carried away with his new found fame. "I've seen too many of the stars come in and fall away," he said. "I don't see this as an overnight sensation. I like to see this as my career and I hope to be around for a long while yet." McGuire said he had no plans to leave Ten to join Nine, and had refused earlier offers to do so, but the promise of The Footy Show and other projects were the deal maker. "I wanted to go over and walk into a position I wanted to do. Nine is the number one station, but it was The Footy Show first and foremost that made me move. I'd been pushing for a couple of years at Ten for a similar type of show."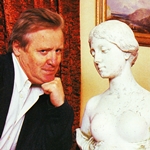 All the write moves!
Michael Aitkens (pictured), a familiar face on Australian TV with roles in shows including Power Without Glory, The Truckies and A Country Practice, is enjoying a new life in London with Australian wife, actress Veronica Lang. Aitkens is currently writing two series for the BBC — A Class Act, starring Joanna Lumley and Australian Nadine Garner, and comedy Waiting For God. One of his earliest writing success was the ABC series Trial By Marriage. He'd also written for A Country Practice — inadvertently killing off a character played by Lang. "We had a dip in the ratings and I thought, 'Let's shake things up a bit"," he told TV Week. "I forgot the character was played by my good lady wife, so we gave her a really exotic disease and ran her into a tree!" He also admits that he once played Garner's dad in The Henderson Kids. "That series made me decide to give up acting. I was playing with all these people who came up to my knees and didn't want to go to the pub afterwards. I thought, 'This is the end!'."
Holidays for $50 a day? Getaway!
In an upcoming episode of travel series Getaway, reporters Rebecca Harris, Jeff Watson, Tina Dalton and new recruit Jane Rutter will uncover some of the cheapest deals for tourism, dining and outdoor experiences. "In Noosa we went out on a fishing boat, and if there's six of you it's only $5 each — and for that you get half a day on the water with fishing lines, bait and the bucket thrown in," Harris said. "Then we did a cycling tour out of Cairns with the Jolly Frog company, which was $10 for the bike and helmet — a great way to meet people." Then there was the surprise of a place in Surfer's Paradise. "This was only $14 a night, with plenty of activities."
Briefly…
Neighbours star Caroline Gillmer is reported to be discussing plans with Grundys for an upcoming Nine Network telemovie based on the true story of forbidden love between a prison officer and a prisoner, with the officer aiding the prisoner and another inmate to escape from the Melbourne Remand Centre in 1993. The telemovie — with working titles Unchained and Better Than Nothing At All — is set to screen in 1995.
Natalie Imbruglia is making a return to Neighbours for a three-week guest stint. The story will see her character Beth return to Ramsay Street to see Gaby's (Rachel Blakely) new baby. Imbruglia has also recently scored a guest role in Nine sitcom The Bob Morrison Show.
Actress Heather Mitchell will fly to Poland with her husband, cinematographer Martin McGrath, to begin work on a new 26-part children's series being made by Film Australia for the Nine Network.
Lawrie Masterson: The View From Here
"A couple of weeks ago, I made a note here to stay with The Damnation Of Harvey McHugh. After its difficult birth — which was well documented here and in other places — it had made an encouraging start to its on-screen life. I mean, here was a black comedy which paid scant regard to any of the recognised television formulas, and which had a young known in the lead role and just about every scene. But The Damnation Of Harvey McHugh has beaten all those odds to establish itself as a genuine little gem."
Program Highlights (Melbourne, July 2-8):
FIFA World Cup: SBS' coverage of the FIFA World Cup continues with live match coverage on Sunday through to Wednesday mornings. SBS also screens classic FIFA World Cup official films on Saturday (1954), Thursday (1958) and Friday (1962) nights.
Saturday: Monica Maughan, starring in ABC's The Damnation Of Harvey McHugh, guest stars in A Country Practice (7.30pm, Ten).
Sunday: SBS begins nightly half-hour coverage of the Tour de France (6pm). Sunday night movies are Victim Of Love (Seven), Curly Sue (repeat, Nine) and Single White Female (Ten). The Men's Singles Final of Wimbledon is broadcast live (10.40pm, Nine).
Monday: In Home And Away (7pm, Seven), Shane (Dieter Brummer) and Angel (Melissa George) fear their romantic getaway may never eventuate. In Frontline (8pm, ABC), Mike (Rob Sitch) is worried about his lack of profile and his attempts to raise it cause more worries for Brian (Bruno Lawrence).
Tuesday: In Neighbours (6.30pm, Ten), Cheryl's (Caroline Gillmer) mother Marlene Kratz (Moya O'Sullivan, pictured) arrives in Ramsay Street. In GP (8.30pm, ABC), the South African-born parents of Zoe's (Janelle Owen) face the dilemma of returning to a new South Africa.
Wednesday: In Heartbreak High (7.30pm, Ten), with his father and brother in jail, Rivers (Scott Major) is the man of the house and has to look after his alcoholic mum. In Hey Dad! (8pm, Seven), as Tracey's (Belinda Emmett) new boyfriend is 30, she lies about her age and tells him she's 23.
Thursday: In Neighbours (6.30pm, Ten), Pam (Sue Jones) and Doug (Terence Donovan) prepare for the new-age bikie festival. In Home And Away (7pm, Seven), Alf (Ray Meagher) is adamant that Jack (Daniel Amalm) is responsible for the graffiti at the surf club. In Beyond 2000 (7.30pm, Ten), Dr Caroline West previews the spectacular astronomical crash expected to happen in mid-July when Comet Shoemaker-Levy 9 will collide with Jupiter. In The Damnation Of Harvey McHugh (8.30pm, ABC), Harvey (Aaron Blabey) gets a job with the Police Department's Art Union.
Friday: In Rex Hunt's The Great Outdoors (7.30pm, Seven), guest reporter Ann-Marie Biggar gets a birds-eye view of Canberra, Frankie J Holden visits Barrington Tops Guesthouse in the Hunter Valley, Ernie Dingo visits Channon Markets in the Tweed Valley, and Penny Cook continues her Kakadu journey.
Source: TV Week (Melbourne edition), incorporating TV Times and TV Guide. 2 July 1994. Pacific Publications Pty Ltd.