Cover: Jennie Garth (Beverly Hills 90210)
Basia's big byte
According to The Big Byte host Basia Bonkowski, technology can be sexy. "Technology, in a way, is very sexy — it is!," she told TV Week. "It's fascinating and it takes you into a different sphere and opens up new avenues, and for that reason it's exciting." The new show features the latest in computers and telecommunications, technology reviews and covers a broad range of topics to appeal to both novices and experienced computer users. "I know a lot of people who fear technology, but I think the problem now is that you have no choice. You either sink or swim. This program will show people how not to be scared of technology."
Home is where the heart is
TV Week previews ABC's upcoming 13-part drama series Heartland, starring Ernie Dingo and Cate Blanchett. Filming was completed near Mt Augustus in the remote Gascoyne region of Western Australia, where the town's population of six ballooned to more than 50 when cast and production crew moved in! Temperatures soared to 50 degrees, but for Dingo it felt like home. "This is my country," he said. "I was born 'just down the track' from Mt Augustus." Dingo plays the part of Vincent Burunga, a police liaison officer from eastern Australia who is convinced of the innocence of a young man arrested for the murder of his girlfriend. His belief is shared by Beth Ashton (Blanchett) and the pair strike up a relationship as they try to find answers to the murder.
Neighbours' heartbreak kid!
A Heartbreak Kid-style romance is set to come to Neighbours, as Rick (Dan Falzon) falls for his teacher, Sally Pritchard (Brenda Webb). The teacher resists his advances at first, then realises she likes him too. The controversial storyline also addresses criticism that Neighbours doesn't feature a diverse range of cultures, as Webb is an indigenous Australian. "It's good for Aboriginal people to be seen as having knowledge," Webb told TV Week. "It's also good for other people to see that we're not all running around naked in the bush with spears. There are urban Aborigines as well as rural ones, and a character such as Sally helps to break down that stereotypical image."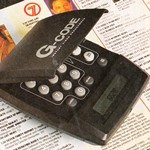 Get set with G-Codes!
This week marks the beginning of G-Codes. TV Week is the first publication in Australia to adopt G-Codes in its program listings. The G-Code system, already in use in the US, Europe, Asia and New Zealand, enables programming of compatible VCRs by entering a code corresponding to the program in the TV guide.
Briefly…
Daryl Somers will be taking another break from hosting Hey Hey It's Saturday as he heads to the London opening of stage production Hot Shoe Shuffle, starring his brother-in-law David Atkins. The Price Is Right host Larry Emdur will host Hey Hey It's Saturday in Somers' absence.
Saturday Disney co-host James Sherry is to host Seven's new kids' game show Amazing. The show replaces Now You See It which was hosted by Sherry's former Saturday Disney colleague, Sofie Formica, who is joining the Nine Network.
Wheel Of Fortune and Family Feud have both had success with "celebrity" versions — and now Man O Man is set to follow suit. "Yes, we have a concept, but no names are lined up as yet," a Seven spokesperson said.
Lochie Daddo, fresh from his role as a gay man in GP, is heading up to the Gold Coast for a guest role in Paradise Beach. Daddo is set to play the part of Angel Bannister, a "toy boy" for Lisa (Tiffany Lamb). Meanwhile, former Home And Away star Greg Benson is also to make a brief appearance in Paradise Beach.
Lawrie Masterson: The View From Here
"We were surprised, to put it mildly, to discover that a British magazine had invited its readers to "have their say" in this year's TV Week Logie Awards by sending their votes to an address in Bristol. The votes were then to be passed on to us. If they are — and I doubt whether they will be following some recent correspondence — they will, of course, be shredded. The TV Week Logie Awards belong to you, not the residents of another country that sees only a selection of our programs — and two or three years after we've seen them."
Program Highlights (Melbourne, March 19-25):
Saturday: The AFL Fosters Cup Grand Final (8.30pm, Seven) is broadcast live from Waverley Park, Melbourne.
Sunday: Nine crosses to Surfers Paradise for the Australian FAI Indy Car Grand Prix (11am). In Heartbreak High (6.30pm, Ten), Nick (Alex Dimitriades) and Jodie (Abi Tucker) sleep together for the first time, and Nick's parents are worried sick when he fails to return home for the night. Sunday night movies are Company Business (Seven), Crocodile Dundee (Nine) and Twins (repeat, Ten).
Monday: In Neighbours (6.30pm, Ten), Helen (Anne Haddy) flirts with romance. Mary Kostakidis' guest on The Talk Show (7.30pm, SBS) is cricketer Imran Khan. Roy Slaven (John Doyle) and HG Nelson (Greig Pickhaver) are back in a new series of This Sporting Life (9.30pm, ABC).
Tuesday: In Neighbours (6.30pm, Ten), Mark (Bruce Samazan) worries he may be exploited for his body. Alyssa-Jane Cook (E Street) and Maggie Dence (The Sullivans, Neighbours) guest star in GP (8.30pm, ABC). Nine has a delayed telecast of the 66th Academy Awards (8.30pm) from the Dorothy Chandler Pavilion of the Los Angeles Music Centre, hosted by Whoopi Goldberg. Nominations for Best Picture are Schindler's List, In The Name Of The Father, The Fugitive, The Piano and The Remains Of The Day.
Wednesday: In Neighbours (6.30pm, Ten), Len Mangel (John Lee) tries the smooth approach on Helen (Anne Haddy). In Home And Away (7pm, Seven), Michael (Dennis Coard) and Pippa (Debra Lawrance) are unaware of Haydn's (Andrew Hill) imminent departure. Ernie Dingo, Cate Blanchett and Steve Vidler star in the series debut of Heartland (8.30pm, ABC).
Thursday: Technology series The Big Byte (7.30pm, SBS) makes its debut, hosted by Basia Bonkowski with reporters Simon Nasht, Maeve O'Meara and Phil Keoghan (pictured). In Beyond 2000 (7.30pm, Ten), Iain Finlay reports on a new concept being used in the US, TV Allowance — a system which controls the amount of television children watch. Former Network Ten journalist Eddie McGuire hosts the debut of The Footy Show (9.30pm, Nine), featuring Sam Newman and panellists Wayne Carey, Tim Watson, Jason Dunstall, Allen Jakovich, Doug Hawkins, Craig Kelly and comedian Trevor Marmalade.
Friday: In Rex Hunt's The Great Outdoors (7.30pm, Seven), Frankie J Holden visits the Clock Museum in Rockhampton; Penny Cook reviews a series of work projects and activity books from Reader's Digest; Bridget Adams and Neil Crompton test drive the BMW M3; and guest reporter Dieter Brummer (Home And Away) tests the rides at Dreamworld.
Source: TV Week (Melbourne edition), incorporating TV Times and TV Guide. 19 March 1994.  Southdown Press