After 37 years, it's over. Neighbours has been axed.
The show's producer, Fremantle Australia, has ended weeks of speculation following the show's dumping by UK broadcaster Channel 5 — a major financial partner in the series.
Despite a massive outpouring of support from fans across the United Kingdom and Australia — including a petition of more than 61,000 signatures — Fremantle has conceded that it is unable to find an alternative funding partner for the series that began in 1985 and has run for almost 9000 episodes.
Production is to end in June. Channel 5 is expected to finish airing the series in the UK in August, with 10 Peach to be some time after — due to the series airing at fewer episodes a week in Australia.
We are so sorry to say that after nearly 37 years and almost 9000 episodes broadcast we have to confirm that Neighbours will cease production in June. pic.twitter.com/YwlDZPb7zB

— Neighbours (@neighbours) March 3, 2022
NEIGHBOURS MILESTONES:
1984: New series Neighbours announced by Seven Network. To be produced at HSV7, Melbourne for the Grundy Organisation. Pin Oak Court in the Melbourne suburb of Vermont South, is selected as the exterior location for "Ramsay Street".
March 1985: First episode airs across the Seven Network — continuing to air weeknights at 6.00pm (Melbourne, Adelaide), 5.30pm (Sydney) and 7.00pm (Brisbane)
Mid-1985: The Seven Network axes Neighbours following poor ratings in Sydney, despite strong ratings in other cities.
September 1985: The Ten Network announces it has picked up Neighbours and will shift production to the ATV10 studios in Nunawading and maintaining Pin Oak Court as the street's exterior.
January 1986: Neighbours launches on Ten, screening at 7.00pm.
April 1986: Neighbours wins its first TV Week Logie awards: Most Popular New Talent (Peter O'Brien) and Most Popular Program In Victoria.
October 1986: Neighbours debuts on BBC1 in a daytime timeslot.
July 1987: The wedding of Scott Robinson and Charlene Ramsay (Jason Donovan and Kylie Minogue) creates the show's most defining moment.
January 1988: BBC1 extends Neighbours to an evening re-run at 5.35pm. It goes on to top the national ratings.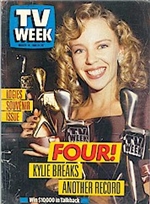 March 1988: Kylie Minogue makes Logies history, collecting four awards on the night including the Gold Logie for Most Popular Personality On Australian Television. She also becomes the youngest ever to win the Gold Logie.
July 1989: Neighbours reaches its 1000th episode.
March 1990: Craig McLachlan wins Neighbours' second TV Week Gold Logie
March 1992: Ten moves Neighbours to the 6.30pm timeslot.
September 1993: Episode 2000
October 1994: The Kennedy family (played by Alan Fletcher, Jackie Woodburne, Benjie McNair, Kym Valentine and Jesse Spencer) move into 28 Ramsay Street.
January 1998: Episode 3000
May 2002: Episode 4000
May 2005: Neighbours is inducted into the TV Week Logie Awards' Hall Of Fame.
June 2006: Episode 5000
February 2008: Neighbours switches from BBC to Channel 5 in the UK
August 2010: Episode 6000
January 2011: Ten moves Neighbours to its new secondary channel, Eleven.
October 2014: Episode 7000
March 2015: Neighbours celebrates its 30th anniversary with a reunion of past cast members
September 2018: Neighbours presents Australian television's first legal same-sex wedding.
December 2018: Episode 8000
2020: Neighbours becomes one of the first productions in the English-speaking world to resume under COVID-safe conditions
March 2020: Neighbours celebrates its 35th anniversary with a five-episode spin-off, Neighbours: End Game.