The real Lisa Lackey revealed
Home And Away star Lisa Lackey (pictured) admits that being on the popular soap is not exactly where she wants to be. "I don't want to be a soap star. I don't want to be a television celebrity — I cannot stress that enough. I don't want to host Sale Of The Century… I want to be an actor," she told TV Week. She says she didn't sign a two-year contract with the series for the money, claiming she could earn more in a day's modeling than a week on the Home And Away set, but rather to gain an insight into the acting profession and the medium of television. "I have really learned so much in Home And Away. I have learned a lot about cameras, I've learned a lot about the technical side, I've learned about how to be professional and work with other people, how to be disciplined. But I've also learned that it's definitely not what I want to be doing for a long time. I want to have the chance of playing different roles, of doing some theatre and maybe some film. Maybe I'll never get there, but who knows?"
Hard Copy axed
After two years and 88 shows, Network Ten's tabloid current affairs program Hard Copy has been axed. Producer Peter Sutton was disappointed at Hard Copy's treatment by the network. "The fact it was in four different timeslots certainly didn't help it," he told TV Week. "But it raised a lot of revenue for the network." The axing of Hard Copy comes after the appointment of former Beyond 2000 reporter Carmel Travers as director of news and current affairs for the network, and the recent cancellation of the Hinch program. "Ten is playing at serious television and trying to go upmarket as every new owner does every few years," Sutton said.
John barges to cult status
Actor John Diedrich was not impressed when The Late Show approached him about plans to re-dub episodes of the classic cop show Bluey as the comical Bargearse. "I said no, absolutely not," he told TV Week. "I didn't know what they were going to do with it. I was in England and I hadn't seen what they'd done with (historical drama series) Rush. And Gerda Nicolson, who also starred in it, was a great friend of mine, and she only died last year… I didn't want them making her look silly." But Diedrich had a change of heart once he'd learned that Bluey co-star Lucky Grills had agreed. "If it's good enough for Lucky…," he conceded. The resulting Bargearse sketches gained a huge following when played on The Late Show during the year. "My sister has a 16-year-old daughter and all her friends tape it and learn the lines and recite them at school," Diedrich said.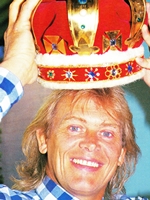 Look who's still King of Pop
A clean out of the TV Week offices uncovered the discovery of a long lost piece of memorabilia — the original King Of Pop crown. The TV Week King Of Pop Awards ran from 1967 to 1978, with John (then Johnny) Farnham winning the King Of Pop title an amazing five times between 1969 and 1973. To celebrate the find TV Week arranged a reunion between Farnham and the well-worn crown. "Look at all this sweat. That's all mine. It's still there," he said. "I can remember all that. This crown really is the story of my life."
Briefly
Artist Services, producers of Full Frontal and Tonight Live, are working on a sitcom project, Wedlocked. Dina Panozzo (Richmond Hill), Brandon Burke (Glenview High) and Richard Piper are believed to be among the cast.
GP star Michael Craig was a recent guest of honour on the UK version of This Is Your Life. The British-born actor, greeted by host Michael Aspel in Sydney, was reunited with his two sisters, his brother and his two UK-based sons. He also received video greetings from his 94-year-old mother and from Lord Richard Attenborough.
ABC's TVTV could soon have competition from the Nine Network. Former MTV host Richard Wilkins, now entertainment reporter for Today, is working on a pilot for an Australian version of Entertainment Tonight titled Inside Entertainment.
Lawrie Masterson: The View From Here
"When (Seinfeld), now five seasons old, finally made it to Australia, just about every pundit, myself included, loved it but couldn't understand why the Nine Network had almost doomed it with a 10.30pm slot on Thursdays. It emerges that Nine was merely getting its money's worth before losing rights to the series to Network Ten in one of those package deals Australian networks do with overseas program suppliers and distributors. Seinfeld now has shown up on Ten at 8pm Tuesdays, and if you didn't catch it on Nine, then here's your chance. A show that should have been one of the hits of the year is going to be with us throughout a summer that, as far as television is concerned, is looking about as arid as any in recent memory."
Program Highlights (Melbourne, December 4-10):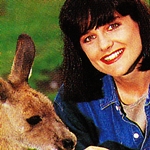 Saturday: New Faces With Bert Newton (5.30pm, Ten) presents its junior contest grand final. Ten Eyewitness News' Brisbane newsreader Marie-Louise Thiele (pictured) presents the new travel series Summer Holiday (6.30pm, Ten).
Sunday: Sunday Stereo Special (8.30pm, ABC) presents a unique version of opera La Boheme, set in 1950s Paris, starring David Hobson and Cheryl Barker. With non-ratings now upon us Sunday night movies are all repeats: The January Man (Seven), Peggy Sue Got Married (Nine) and Jumpin' Jack Flash (Ten).
Monday: This week's Sale Of The Century (7pm, Nine) guest co-hosts will be a different model each night, starting with former Blind Date co-host Nicky Buckley. A Kid Called Troy, the documentary produced earlier in the year about 7-year-old Troy Lovegrove, is given a repeat screening (8.30pm, ABC).
Tuesday: In Paradise Beach (7.30pm, Nine), Roy (John Holding) and Loretta (Raelee Hill) have a boating accident with frightening consequences. Documentary series The Cutting Edge (8.30pm, SBS) presents Super Imposed, looking at the shortcomings of the Federal Government's compulsory superannuation system.
Wednesday: In the series return of A Life (9.40pm, ABC), Geraldine Doogue interviews social activist Bob Santamaria, best known for his weekly commentary program Point Of View.
Thursday: There is limited live coverage of the Benson And Hedges World Series Cup cricket — Australia versus South Africa — from the MCG (2.20pm, Nine). TVTV (6.30pm, ABC) presents its final program for 1993. Youth Express (7.30pm, SBS) looks at the issue of young men who have sex with men, but consider themselves to be heterosexuals.
Friday: In Neighbours (6.30pm, Ten), Jack (Mark Pennell) and Gaby's (Peta Brady) relationship comes to a bitter end; while wedding plans continue to put pressure on Brad (Scott Michaelson) and Beth (Natalie Imbruglia). The 7.30 Report (7.30pm, ABC) presents its final edition for 1993. Documentary series Through Australian Eyes (8pm, SBS) presents Stranger In My Own Land, following some Greek-born Australians who return to Greece to discover they don't belong back home.
Source: TV Week (Melbourne edition), incorporating TV Times and TV Guide. 4 December 1993.  Southdown Press