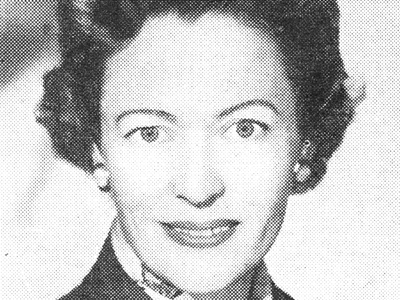 Actress Mary Ward, best known as Jeanette "Mum" Brooks in Prisoner, has died peacefully in a nursing home at the age of 106.
Born in Western Australia in 1915, she went to the United Kingdom in the 1930s to pursue a successful acting career. She had just signed a long term contract to work at London's West End when World War II broke out. With the London theatre circuit closed, she returned to Australia to continue her professional career. As well as theatre work, she also starred in radio plays and serials and became one of the first female announcers for ABC radio. Shortly after television arrived in 1956, she starred in the play Roundabout, one of the first dramas performed on Australian television. She also starred in The Twelve Pound Look and in Captain Carvallo — the latter performed on the opening night of ABC's Ripponlea studios in 1958.
She continued to work in theatre and radio and made guest appearances in television series including Homicide, Power Without Glory, Rush, Cop Shop and The Young Doctors. In 1978, she was cast as inmate "Mum" Brooks (pictured) in Prisoner and featured during the show's first months on air before health concerns forced her to leave. She returned to the series for a brief run in 1981.
She later appeared in Sons And Daughters as Dee Morrell, and as Mrs Granger in Neighbours.
Other credits included The Henderson Kids, A Country Practice, I Can Jump Puddles, The Damnation Of Harvey McHugh, Blue Heelers and Born To Run, an Australian production for Walt Disney.
Source: IMDB, TV Tonight, 9Honey, The Australian Jewish Herald. TV News-Times, 25 September 1959.