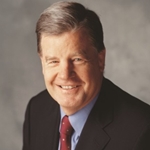 David Leckie, former executive at the Seven and Nine networks, has died at the age of 70 after a long illness.
He had a career spanning four decades, rising from the role of sales executive at GTV9, Melbourne, in the late 1970s to becoming one of the most powerful figures in the Australian television industry.
He was appointed Managing Director of the Nine Network in 1990, and Chief Executive Officer in 1994 — leading Nine through the return of ownership to the Packer empire and maintaining a consistent period of ratings dominance as the industry approached the advent of digital television. He was unceremoniously dumped by Kerry Packer, via his son James, in 2002 as the scapegoat for the industry's change in ratings measurement platforms which saw Nine suddenly shown in a less flattering light.
He was then persuaded by Seven Network chairman Kerry Stokes to come across to lead his network in 2003. Leckie held several senior roles with the Seven group, including Chief Executive Officer of Seven Network, Managing Director and Chief Executive Officer of Seven Media Group and Seven West Media, and a Director of Seven Network Limited, Seven West Media and Seven Group Holdings.
Under his tenure, Seven lifted its profile from perennial runner-up status to be the market leader for over a decade. He stepped down from the CEO role in 2012 but continued to act as consultant to the network until 2016. Last year, he returned to Seven in a mentoring capacity.
In a statement issued by Seven, Stokes paid tribute to Leckie's contribution:
"David achieved the turnaround quickly and effectively, building a winning team, financial and programming model, which delivered us leadership of the TV industry for many years.
"He had a magnificent grasp of television and what people wanted to enjoy, whether it be news and current affairs or light entertainment programming, and he achieved success in every aspect of his leadership of Seven. He leaves a great legacy and I pass on my sympathies to Skye, Harry, Ben and Tim and the rest of his family, who he loved very much.
"Vale my friend David."
Current Seven West Media Managing Director and Chief Executive Officer, James Warburton, said:
"David was a true legend of the Australian media industry and a loved part of the Seven family. Everyone at Seven will miss him enormously.
"Inspiring, engaging, loud, passionate and famously difficult at times, he was an extraordinary sales person and an intuitive TV programmer. Without a doubt he was the best TV executive this country has ever seen and an important influence and mentor for so many people and careers. He was once labelled the last of the rock star CEOs and I'd say that was a pretty good description.
"David was the reason I got into television and was a great friend. My heartfelt sympathies go to Skye and their boys. There will only ever be one David Leckie. It was a great privilege to have known and worked with him."
Nine Network CEO Mike Sneesby also paid tribute:
"David Leckie was a giant of television. He contributed enormously to the success we all shared with him here at Nine, his instincts and leadership heralded the golden era of Australian television. He adored his family and so many of us stayed in touch as a friend even after he left. He set the culture of excellence at Nine that still exists in our DNA today and we thank him for that."
David Leckie is survived by second wife Skye, their sons Harry and Ben, and son Tim from his first marriage.
Source: Sydney Morning Herald, Seven West Media, Nine, TV Tonight, Sydney Morning Herald, Seven News. Who Killed Channel 9?, Gerald Stone, 2007.