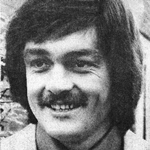 Grant Goldman, voice over announcer and radio presenter, has died at the age of 69.
He had been diagnosed with terminal cancer in 2017.
Starting his career at the age of 14, Goldman was a distinctive and familiar voice on radio, working at numerous radio stations including 2UE, 2WS, 2DAY, 2GB, 4IP, 3UZ and 5AD. He also worked in television. His credits included Stairway To The Stars and Jukebox Jury for Seven and It's A Small World for Ten. He also hosted the first episode of Countdown in November, 1974 — one of the first colour programs produced for ABC, and worked as a voice over announcer for the Ten Network.

YouTube: For The Love Of Broadcast
He once made a guest appearance as a panellist on Big Brother spin-off Friday Night Games, co-hosted by his son Mike Goldman.
In Sydney, Goldman provided voice announcements for City Rail and State Rail as well as Sydney Football stadium, Stadium Australia, Sydney Cricket Ground and Brookvale Oval.
Goldman had most recently been a breakfast announcer at Sydney radio station 2SM, with his program broadcast across the Super Radio Network.
Grant Goldman is survived by his wife, six children and three grandchildren.
Source: Radio Info, 2HD, 2GB