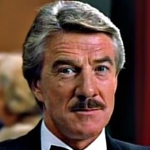 Bryan Marshall, the British actor with a string of Australian credits, passed away last week at the age of 81.
London-born Marshall was a familiar face in British television dramas as far back as the 1960s, with early credits including No Hiding Place, Dr Finlay's Casebook, The Forsythe Saga, Vanity Fair, Z Cars and The Saint.
He starred in the 1977 James Bond film The Spy Who Loved Me and later came to work in Australian television dramas, including A Country Practice, Prisoner, Golden Pennies, Special Squad, Neighbours, The Dirtwater Dynasty, Tanamera: Lion Of Singapore, Embassy, Water Rats, Home And Away, Stingers, All Saints and A Moody Christmas.
He was also the host of the first series of Australia's Most Wanted for the Seven Network in 1989.
Source: IMDB