Television.AU wishes everyone a very Merry Christmas!
And, from 1987, it's also a Merry Christmas from our friendly Neighbours — Craig McLachlan, Rowena Mohr, Paul Keane and Nick Carrafa; with Kylie Minogue and Ian Smith in the middle row; and Jason Donovan, Annie Jones and Anne Charleston.
Neighbours was at its peak in popularity, collecting five TV Week Logie Awards earlier in the year, and having just married teenage sweethearts Scott and Charlene to massive ratings. The series was at the end of its first year screening in the UK but it was still buried in a daytime timeslot. It would only be another month before BBC shifted it to the 5.35pm timeslot where it became a ratings hit and its future was assured.
Minogue, who had made her recording debut a few months earlier with Locomotion, had also just been announced as part of the celebrity line-up to perform for Prince Charles and Princess Diana at the upcoming Royal Bicentennial Concert in Sydney.
The following year would see Minogue depart Neighbours to pursue her pop career.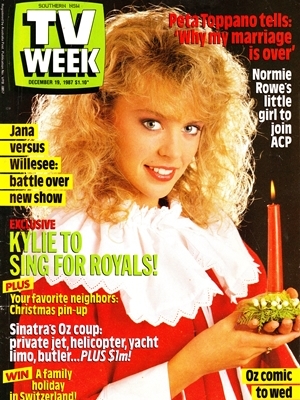 Source: TV Week, 19 December 1987.