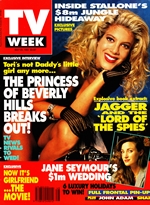 Cover: Tori Spelling (Beverly Hills 90210)
Not so smart, Alex!
Actress Di Smith has taken time out from her stage acting commitments to make a brief return to A Country Practice, four years after leaving the series.  The upcoming guest appearance sees Smith's character Dr Alex Fraser return to Wandin Valley emotionally drained after working in extreme conditions at an Aboriginal mission out past Broken Hill.  "She was idealistic, but Alex had been labouring under extreme conditions for a long time," Smith told TV Week.  "She wants to find something of a home, like back in the valley, but so much is different and it's not the right place to be."  As well as A Country Practice, Smith will also be seen on screen later in the year in Seven's children's series Butterfly Island and upcoming telemovie Distant Home.
Sunshine, surf, sand and soap!
Kris Noble, head of drama for the Nine Network, sums up the network's new afternoon soap Paradise Beach:  "All teenagers dream of escaping from the responsibilities of the world of their parents.  This is a fresh exciting drama that will set standards for serial television."  The series, which debuts this week, has already been sold around the world, including UK network BSkyB, 220 stations across the US and a dozen European networks.  Paradise Beach centres around a group of teenagers — played by Ingo Rademacher, John Holding, Jon Bennett, Kimberley Joseph and Megan Connolly — and features supporting characters played by Robert Coleby, Andrew McKaige, Deborah Coulls, Eric Oldfield, Tiffany Lamb and Matt Lattanzi.  "There are lots of issues and it doesn't just concentrate on the younger characters," Joseph told TV Week.  "It's more adult that I expected."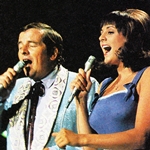 Ernie and Denise go beyond 2000
Ernie Sigley and Denise Drysdale recall their past career as they celebrate 2000 hours of television together.  The pair, who first worked together on The Ernie Sigley Show in 1974 (pictured) and now on Nine's morning show Ernie And Denise, admit they "blue like cat and dog over meaningless things" but maintain the chemistry that made them household names — and Gold Logie winners — in the 1970s.  Sigley recalls a recent incident where he had a gastric problem that sent him often to the dressing-room toilet during taping of the show.  After one visit, he felt as if he were sitting on hot coals.  "Denise had rubbed Dencorub on the toilet seat," he said.  "It wasn't until I was back in the studio that the burning started."  Sigley also refuses to sit near his co-star when they fly. He has a fear of flying and she does little to soothe his anxiety.  "She always wants to talk to you about how long it's been since we had an air disaster," he said.  Sigley feels there is room for the pair on prime time TV.  "Shows like Tonight Live are not working," he said.  "I'm 54 now and I honestly get turned off when they go straight for the bawdiness.  Half of them are amateurs."
Briefly…
Neighbours' attempt at featuring a more culturally diverse neighbourhood appears to have been short lived.  The Alessi family looks set to be written out following the departure of Marco Alessi (Felice Arena), with parents Benito and Cathy (played by George Spartels and Elspeth Ballantyne) soon to be sent off to Sydney — leaving Rick (Dan Falzon) as the only family member staying put in Ramsay Street.
Hal McElroy — best known as co-producer of series Return To Eden — has proposed a new police drama, Blue Heelers, for the Seven Network.  He has also been discussing with Seven ideas for a pilot for a children's quiz show.
The Nine Network will soon launch its new home lifestyle/magazine show Our House on Wednesday nights at 7.30pm.  The half-hour program, to run back-to-back with finance program Money, features Tracey Dale, Reg Livermore, Graeme "Shirley" Strachan and Rebecca Gilling.
Program Highlights (Melbourne, May 30-June 5):
Sunday:  Les Murray hosts live coverage of the Oceania World Cup Qualifying Series — Australia versus New Zealand — from Auckland, with commentators Andy Paschalidis and Johnny Warren (12.30pm, with highlights package at 11pm, SBS).  Sunday night movies are The Commitments (Seven), Doc Hollywood (Nine) and Parenthood (Ten).
Monday:  Paradise Beach makes its debut (5.30pm, Nine) — starting with three teenagers leaving suburbia and making their way to Paradise Beach for sun, surf and fun.  Rugby league State Of Origin features NSW versus Queensland at Lang Park, Brisbane (8.30pm, Nine).
Tuesday:  In All Together Now (8pm, Nine), Thomas (Steven Jacobs) is horrified when his mother Beth (Kerry Armstrong) is hired as a nude model for his school's art class.  AFL State Of Origin, featuring Victoria versus NSW, is telecast  from the MCG (9.30pm, Seven).
Wednesday:  AFL State Of Origin continues with South Australia versus Western Australia, live from Football Park, Adelaide (8.30pm, Seven).  Documentary-drama telemovie Joh's Jury is given a re-run (8.30pm, ABC).
Thursday:  Paul Sonkkila guest stars in the final episode of the second series of Phoenix (8.30pm, ABC).  The Ashes First Test, England versus Australia, is telecast live from Old Trafford, England (8.30pm, Nine), followed by live coverage of the French Open tennis (3am, Nine).
Friday:  In The Great Outdoors (7.30pm, Seven), Ernie Dingo visits Fraser Island; Andrew Ettinghausen learns about myna birds; and Sofie Formica visits Steve Vizard's farm, south west of Melbourne.  More live sport with The Ashes (8.30pm, Nine) from England, and French Open tennis (3am, Nine) from Paris.
Saturday:  Sandy Roberts hosts coverage of the AFL State Of Origin Grand Final (8.30pm, Seven) from the MCG.  More Ashes cricket and French Open tennis on Nine from 8.30pm.  The D Generation returns with a second series of live comedy with The Late Show (10pm, ABC).
Source: TV Week (Melbourne edition), incorporating TV Times and TV Guide. 29 May 1993.  Southdown Press.