2 September 1972: Jeff Phillips (Happening '72)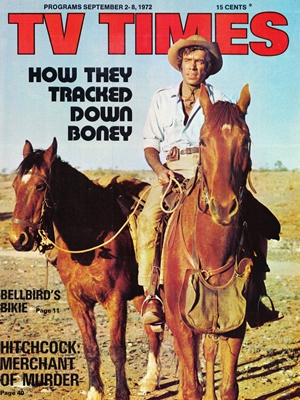 2 September 1972: James Laurenson (Boney)
2 September 1978: Paul Cronin, Lorraine Bayly, Toni Vernon, Richard Morgan (The Sullivans)
2 September 1978: Malcolm Thompson, Sue Smithers, Graham Thorburn (The Restless Years)
2 September 2000: Kim Kilbey (Australia's Funniest Home Video Show) and her father Brian.
2 September 2006: Sharni Vinson and Mark Furze (Home And Away)
---
2 September 1969: Includes The Entertainers with Tommy Hanlon Jnr, and Spellbound with Garry Meadows and hypnotist Martin St James.
2 September 1978: Adelaide's SAS10 screens the television adaptation of the stage show The '20s And All That Jazz, produced earlier in the year at the studios of ATV0, Melbourne. The production features cast members of the stage version — John Dietrich, Caroline Gillmer (later to be seen in Prisoner and Neighbours) and John O'May — with cameo appearances from Jon Sidney, Denise Drysdale and Gus Mercurio.
2 September 1995: Gladiators (Seven) returns with a new series, introducing two new Gladiators — Predator and Commando — and new co-host Mike Hammond joining Kimberley Joseph.
2 September 2000: The AFL Grand Final, Essendon versus Melbourne, is telecast live on Seven.
2 September 2008: Ten debuts its new police drama Rush, starring Callan Mulvey, Rodger Corser, Catherine McClements, Samuel Johnson, Josef Ber, Nicole da Silva, Claire van der Boom and Ashley Zukerman.
2 September 2010: Nine debuts police drama Cops LAC, starring former Home And Away star Kate Ritchie with Gary Sweet, Martin Dingle-Wall, Denise Roberts, Damien de Montemas and Roy Billing.