YouTube: southaustraliatv
Of all the vintage soaps to get a new lease on life online, Network Ten's Echo Point would have been way down the list of likely candidates. It ranks on the list of some of Australian TV's most infamous soapie disasters among such titles like Arcade, Holiday Island, Paradise Beach and Family And Friends.
The weeknight soap debuted in June 1995, slotted in at 7.00pm directly up against Seven's Home And Away.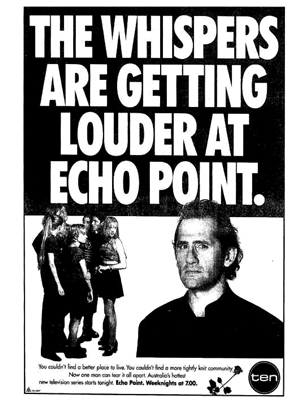 In such a competitive timeslot, Echo Point didn't stand a chance — especially when its first week coincided with Home And Away's publicised return of character Bobby Simpson (Nicolle Dickson). Bobby had been killed off two years earlier but was back for some dream and flashback sequences and as a ghostly vision to Ailsa Stewart (Judy Nunn). Also returning to the series were long-lost characters Marilyn (Emily Symons) and Steven (Adam Willits). Seven denied that it had deliberately timed the return of three key characters to hurt its new rival. "The stories are done months before," Seven executive Des Monaghan told TV Week. "We were just very pleased that Channel Ten decided to launch their show that week."
Like with any new soap, Echo Point had a cast of familiar and fresh faces to form the series' base of four families living in a small coastal community that is remarkably not dissimilar to Summer Bay of Home And Away. It marked a TV return for Victoria Nicolls (The Restless Years, Sale Of The Century, Prisoner) and included teen actor Martin Henderson, best known from New Zealand soap Shortland Street, making his Australian TV debut.
The cast also included Sean Scully (Sons And Daughters, Sara Dane, Phoenix), John Clayton (Police Rescue), Allan Lovell (The Comedy Company), Kimberley Davenport (Chances) and new stars Tom Long, Rose Byrne, Rebecca Murphy, Jessica Napier, Louise Crawford, Jack Ellis, Diarmid Heidenreich ("Dougie the Pizza Boy" from the Pizza Hut commercials) and Haley Phillips.
As anyone apart from Network Ten programmers could see coming, Echo Point was a ratings dud up against Home And Away and Nine's Sale Of The Century. Ten then shifted it to 6.00pm, as a lead-in to veteran soap Neighbours, but viewers were still not forthcoming.
Adding soapie legend Rowena Wallace to the cast did little to improve the series' fortunes and it was not long until Ten bumped the show to play out its last episodes at 11.30pm and up until now, never to be seen again.
Despite very few of us watching the series during its run, it did sell overseas and it has the rare distinction of being one of the first Australian drama series to have an online fan website at a time when the internet was barely mainstream.
Echo Point is an unlikely addition to Ten's line-up of Australian dramas on its streaming platform 10Play — with all 130 episodes ready to binge on. Other classic drama titles available on 10Play include Rush, The Secret Life Of Us, Party Tricks, Puberty Blues, Offspring and Foxtel series Love My Way.