YouTube: watvhistory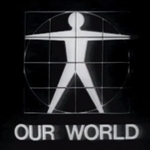 Only weeks after Australia was seeing Expo 67 live from Canada, the nation was once again linked to the Northern Hemisphere for a satellite television event.
Our World was a two-hour real-time snapshot of a day in the life of 14 countries. Featuring live reports, beamed to the control centre at BBC in London before being broadcast across the world, with the help of four international satellites and various microwave and cable links, Our World was a television first.  It was estimated that 400 to 700 million viewers watched the program across 24 countries. (This number could have been as high as 30, except that the Soviet Union and a group of Eastern Bloc countries withdrew their participation in the program a week before going to air)
Australia was the only Southern Hemisphere nation to take part in the program, with three segments featured.
The first featured ABC reporter Brian King bringing the world the sight of a Melbourne tram departing from the depot to start its working day. It was just past 5.00am on a cold Monday morning — 26 June 1967 — but this seemingly pedestrian view of Australiana was selected by Our World's British producers as a stark reminder to viewers in the Northern Hemisphere that while they were watching TV in a warm summer's Sunday afternoon or evening, it was a dark and cold Monday morning down under.
The segment was also to be of an education to American viewers that Australia is a migrants' country, too, as the tram conductress featured was from Europe.
The other two segments from Australia highlighted the country's scientific endeavours. ABC journalist Eric Hunter was in Canberra to report from the Canberra phytotron, a laboratory in which plants can be grown under a wide range of controlled climatic conditions; and it was then off to Parkes, to the giant radio telescope (pictured below) to track a deep space object.
Hosting the Australian broadcast of Our World was James Dibble from the ABC studios in Sydney, accompanied by commentators John West, David Hawkes and Margaret Throsby, who would provide English commentary for parts of the program being presented in foreign languages.
By the end of the program, as well as Australia, viewers had been taken to Japan, Mexico, Italy, Austria, Denmark, the United Kingdom, the United States, Canada, Spain, France, Sweden, Tunisia and West Germany. The two-hour event came to an end with a live cross to a recording studio in London, where The Beatles were recording their single All You Need Is Love.
Our World was produced in black-and-white although footage of the Beatles' recording session was later colourised.
More than 200 people were involved in the Australian component of the program, representing ABC, Postmaster General, the Overseas Telecommunications Commission and NASA. It was estimated that globally as many as 10,000 were involved in the making of Our World.
Source: TV Week, 17 June 1967. TV Times, 21 June 1967.  The Age, 22 June 1967. Sydney Morning Herald, 27 June 1967. Wikipedia.