Dieter's Logies challenge
In the lead up to the 38th annual TV Week Logie Awards, Sale Of The Century is to feature a week-long contest, the Logies Special Challenge. The week of special shows includes various TV Week Logie Award winners from throughout the decades — including Don Lane, Johnny Young, Bobby Limb, Jeanne Little, Jimmy Hannan, Tommy Hanlon Jnr, Jamie Redfern, Richard Huggett, Barbie Rogers and Dieter Brummer. Former Home And Away star Brummer (pictured with Sale co-host Nicky Buckley) says there is a certain irony in his appearance on the show. "Sale screens opposite Home And Away," he told TV Week. "My parents still watch it (Sale Of The Century) quite often — even though Home And Away is on at the same time!"
Summer Bay watch
A cast of familiar faces from Australian soaps feature in the new Foxtel soap parody Shark Bay. The new series, to debut in July, is based on the premise that it's already been running for 24 years and over 8000 episodes, so is exploiting every soap opera cliche in the book. The sun-soaked beach setting of Shark Bay is meant to resemble the Gold Coast, but in a nod to the classic soapie dud Holiday Island, is being filmed on location in the industrial suburb of Port Melbourne. The cast line-up includes Rowena Wallace (Sons And Daughters), Dieter Brummer (Home And Away), Zoe Bertram (The Restless Years, Paradise Beach), Raelee Hill (Paradise Beach, Neighbours), Tina Thomsen (Home And Away) and Kate Gorman (Neighbours). Shark Bay also features Tiriel Mora (Frontline) and Canadian actor Doug Penty (Paradise Beach). Brummer plays the part of nerdish computer guy Brad — a far cry from the often-shirtless Shane he played in Home And Away. "It's hysterical," Brummer told TV Week. "Brad is such a nerd and never takes his shirt off… it's someone else's turn this time!"
Where to now for Richard?
Actor Richard Grieve, who recently finished up on Neighbours, is now left unemployed after plans to work in the UK have been blocked by his work visa being rejected. The knock back follows an ongoing campaign by British Actors' Equity to resist too many Australian actors scoring UK work. Grieve was set to play the lead role of Danny in the West End production of Grease, a role he had accepted while in the UK over Christmas. "My agent had been working for three months to get my visa through, and while I was always aware there could be difficulties in this area, it doesn't lessen the disappointment," he told TV Week. "Working on a project of this calibre — at an international level — is every actor's dream. I love the show and I love singing and dancing." Despite the UK disappointment, Grieve is not sorry to have left Neighbours. "I believe that two years is a nice amount of time to be in a show and I decided it was time to explore other opportunities." Another former Neighbours star, Dan Falzon, had also been offered a part in Grease but similarly missed out on gaining a visa.
Tropical nightmare
ABC's new two-part mini-series The Bite screens this week… but the series had to overcome a massive setback leading up to its production. The Bite, set in Burma, was to be filmed in Vietnam on the basis of political unrest in Burma. Months of planning had gone into preparing for location shoots in Vietnam but the government in Hanoi withdrew its support at the last minute. "It was a political decision because The Bite is about drugs," director Michael Carson told TV Week. The production crew had managed to secure alternative filming sites in Phuket, Thailand, at barely a week's notice. "We'd usually have a month to organise everything. For this shoot we had one week."  The Bite stars Hugo Weaving, Pamela Rabe, Rebekah Jay, Arthur Angel, Frank Gallacher (pictured with Weaving), Chris Simpson and British actress Lesley Manville.
Briefly…
Former Just Kidding co-host Sofie Formica (pictured) has filmed a guest role in the US series Murder She Wrote. The episode, based on the premise that Jessica Fletcher (Angela Lansbury) flew to Australia to solve a crime, was actually filmed in Los Angeles. Other Australians to appear in the episode include Nick Tate and Briony Behets.
No expense was spared in the lead up to the launch of Seven's new current affairs program Witness, hosted by Jana Wendt. Rehearsals for the first show were said to include a two-hour satellite link to Taiwan for Wendt to do mock story intros. Estimated cost for the exercise was a mere $30,000.
Sixteen-year-old Peter Scarf (pictured) is the first in the upcoming influx of new cast members into Home And Away. Scarf plays the part of rich brat Liam Tanner, who moves in with foster parents Pippa (Debra Lawrance) and Michael (Dennis Coard).
The Seven Network has said no to a third series of Fire, leaving the series producer, Liberty Films, to pursuing a new series for Network Ten. The medical drama has the working title of Adrenaline Junkies and various Fire cast members have auditioned for roles.
Former E Street star Simon Baker-Denny has scored a role in a Hollywood pilot, a Western called The Last Best Place In Town.
TV's Top 20 (Week Commencing 24 March 1996): 
| | | | | |
| --- | --- | --- | --- | --- |
| Rank | Program | Network | Day(s) | Viewers |
| 1 | ER | Nine | Thu | 1973000 |
| 2 | Blue Heelers | Seven | Tue | 1874000 |
| 3 | Better Homes And Gardens | Seven | Tue | 1696000 |
| 4 | Ellen | Seven | Thu | 1674000 |
| 5 | JAG | Seven | Mon | 1660000 |
| 6 | Burke's Backyard | Nine | Fri | 1640000 |
| 7 | National Nine News | Nine | Sun | 1634000 |
| 8 | A Current Affair | Nine | M-F | 1614000 |
| 9 | National Nine News | Nine | M-F | 1599000 |
| 10 | Grace Under Fire | Seven | Thu | 1594000 |
| 11 | The Great Outdoors | Seven | Tue | 1580000 |
| 12 | National Nine News | Nine | Sat | 1580000 |
| 13 | 60 Minutes | Nine | Sun | 1575000 |
| 14 | Our House | Nine | Wed | 1568000 |
| 15 | The Nanny | Ten | Sun | 1567000 |
| 16 | Chicago Hope | Seven | Wed | 1530000 |
| 17 | Hudson Street | Ten | Sun | 1504000 |
| 18 | Movie: Forever Young | Nine | Sun | 1497000 |
| 19 | The X Files | Ten | Wed | 1479000 |
| 20 | Lois & Clark The New Adventures Of Superman | Nine | Tue | 1469000 |
Program Highlights (Melbourne, April 13-19):
Saturday: Saturday Night Football (8.30pm, Seven) features Brisbane Bears versus Richmond, live from Brisbane.
Sunday: AFL Sunday features Sydney Swans versus Collingwood (1pm, Seven), live from Sydney, followed by Fremantle Dockers versus Carlton (4pm, Seven), live from Perth. Sunday night movies are The Last Seduction (Seven) and Terminator 2: Judgement Day (repeat, Ten).
Monday: In Home And Away (7pm, Seven), Debbie (Kim Lewis) deliberately cuts herself to get Travis' (Nic Testoni) attention; and Jeremy (David Stanley) is hauled out of class for cheating. In Water Rats (7.30pm, Nine), Goldie (Catherine McClements) and Holloway (Colin Friels) investigate the disappearance of a teenage girl they believe has been murdered by her father.
Tuesday: In Neighbours (6.30pm, Ten), Luke (Bernard Curry) takes drastic action in a bid to keep his cancer diagnosis a secret from Ramsay Street residents. In The Great Outdoors (8pm, Seven), Frankie J Holden checks out the best surfing in the world in Western Australia. In GP (8.30pm, ABC), traumatised by Sonia's (Zoe Carides) death, Henry (Steve Bisley, pictured) throws himself into his work.
Wednesday: Mini-series The Bite (8.30pm, ABC) tells the story of an unsuspecting couple forced into a living nightmare. Angela Punch-McGregor guest stars in Fire (9.30pm, Seven).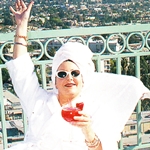 Thursday: In Neighbours (6.30pm, Ten), Grampa Tom (Bob Hornery) struggles to find a quiet moment with Karl (Alan Fletcher) to tell him the long held secret that could change their relationship forever. The special, Zoo Doctor (7.30pm, Nine) looks at the role of vets at Sydney's Taronga Zoo, hosted by Tracy Grimshaw. Sketch comedy Full Frontal (8.30pm, Seven) returns for a new series, featuring Eric Bana, Julia Morris (pictured), Kim Gyngell, Shaun Micallef, Daina Reed and John Walker. 
Friday: In Home And Away (7pm, Seven), Kelly (Katrina Hobbs) is bitten by a funnel web spider. Friday Night Football (8.30pm, Seven) features Brisbane Bears versus North Melbourne, live from Brisbane.
Source: TV Week (Melbourne edition), incorporating TV Times and TV Guide. 13 April 1996. Pacific Publications Pty Ltd.