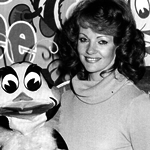 Miss Helena, one of the many presenters on Romper Room over its long run and various versions in Australia, was this morning's guest panellist on Network Ten's Studio 10.
In remembering Romper Room viewers were not only reminded that fellow guest panellist Dan Ilic had featured on the show as a child, but a young James Mathison was also in one episode.
Romper Room, first created in the US in 1953, was first franchised in Australia in the early 1960s. Various versions were produced, including from ATN7 Sydney and QTQ9 Brisbane. Another series, from SAS10 Adelaide, was also broadcast in Melbourne and ran for ten years — while Newcastle station NBN3 produced one of the few (if not only) regional versions.
The ATN7 franchise, which ended up going national through the Seven Network, continued until 1988. An estimated 32,000 children appeared on the show during its long run and as well as Miss Helena there were a number of other Miss Romper Rooms — including Miss Susan, Miss Patricia, Miss Judy, Miss Colleen and Miss Megan.
Source: Sydney Morning Herald, 21 February 1983. Forty Years Of Television, ATN7, 1996.
YouTube: Studio 10