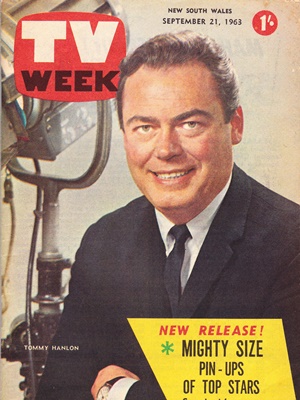 21 September 1963: Tommy Hanlon Jnr (It Could Be You)
21 September 1974: Gerard Kennedy (Division 4)
21 September 1974: Ernie Sigley (The Ernie Sigley Show)
21 September 1991: Sarah Chadwick, Nikki Coghill, Sophie Lee, Liz Burch, Rebecca Gibney, Lenore Smith (The Flying Doctors)
21 September 1996: Kate Fischer (What's Up Doc?) and Lochie Daddo (Getaway)
21 September 2002: Libby Tanner and Jenni Baird (All Saints)
---
21 September 1969: The British documentary, Royal Family, is broadcast across three networks. The program, a joint-production between BBC and ITV, aired in the United Kingdom in July.
21 September 1976: The situation comedy Who Do You Think You Are? (pictured) debuts on ABC, starring Tony Llewellyn-Jones, Barbara Stephens and Stephen O'Rourke — Who Do You Think You Are… a sitcom? [2014]
21 September 1977: Bill Peach hosts the Australian Film Industry Awards for ABC, presented at the Regent Hotel, Sydney. Nominations for Best Film are Don's Party, Break Of Day, The Picture Show Man and (winner) Storm Boy.
21 September 1987: Ian Turpie hosts Seven's new game show, Press Your Luck.
21 September 1992: Seven crosses to the Southern Cross Hotel, Melbourne, for live coverage of the Brownlow Medal Count, hosted by Bruce McAvaney.