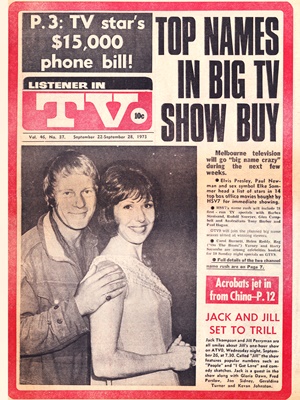 22 September 1973: Jack Thompson and Jill Perryman (Jill)
22 September 1973: Jack Thompson (Jill, Linehaul)
22 September 1973: Mary Hardy (Penthouse Club)
22 September 2001: Tammin Sursok (Home And Away) and swimmer Ian Thorpe
22 September 2007: Simmone Jade Mackinnon (McLeod's Daughters)
---
22 September 1991: Ten crosses to the Sydney Football Stadium this afternoon for the Grand Final of the NSW Rugby League Winfield Cup, with commentators Graeme Hughes, Bill Anderson and Wayne Pearce.
22 September 1993: World Series Debating (ABC) discusses the topic That Football Is Stupid — featuring Wendy Harmer, Lex Marinos, Andrew Denton, HG Nelson and moderator Campbell McComas.
22 September 1997: The 11th annual ARIA Awards are broadcast on Network Ten from the Capitol Theatre, Sydney. Performing artists include Silverchair, Savage Garden, Tina Arena, Paul Kelly and Leonardo's Bride. John Farnham and Human Nature perform the world premiere of their new joint single Everytime You Cry.
22 September 2008: Network Ten debuts Outback 8, featuring four children from each of Australia and the United Kingdom travelling to the outback to learn to be jackaroos. The series was a co-production with BBC.