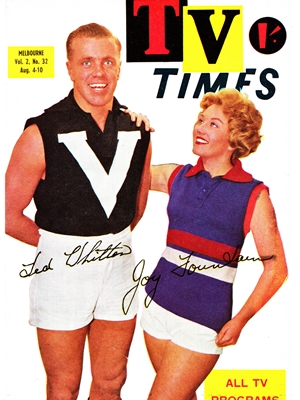 4 August 1960: Footballer Ted Whitten and Joy Fountain (In Melbourne Tonight)
4 August 1973: Graham Kennedy (The Graham Kennedy Show)
4 August 1979: Andrew McFarlane (Jovan: The John Sullivan Story)
4 August 1990: Georgie Parker and John Tarrant (A Country Practice)
4 August 2001: Reality TV stars
4 August 2007: Mark Furze and Indiana Evans (Home And Away)
---
4 August 1964: ATV0 launches weekly pop music show Go!!, hosted by Alan Field and featuring regular performers April Byron, Ian Turpie and Colin Cook. The show ended up being shown nationally and ran for three years.
4 August 1978: The Opening Ceremony of the XI Commonwealth Games, broadcast live from Edmonton, Canada, on ABC with repeats in the evening.
4 August 1980: Seven screens live coverage of the Closing Ceremony of The Games Of The XXII Olympiad from Moscow.
4 August 1984: Network Ten's coverage of The Games Of The XXIII Olympiad from Los Angeles continues into its seventh day.
4 August 1986: STW9, Perth, screens the final episodes of Return To Eden, the spin-off to the 1983 mini-series of the same name.