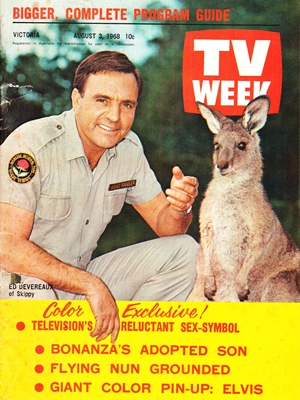 3 August 1968: Ed Devereaux (Skippy The Bush Kangaroo)
3 August 1974: Rod Mullinar and Brenda Addie (Bellbird)
3 August 1991: Rebecca Gibney (All Together Now)
3 August 1996: Melissa George and Corey Glaister (Home And Away)
3 August 2002: Georgie Parker (All Saints)
3 August 2002: Claudia Karvan and Samuel Johnson (The Secret Life Of Us)
---
3 August 1964: First weekday transmission for Melbourne's new channel, ATV0. Nancy Cato, Alec Finlay and Michael Boddy host the debut of the station's afternoon program, The Children's Show. The show becomes a predecessor to The Magic Circle Club, which debuts in 1965 and screens nationally.
3 August 1979: One-Day Miller, the comedy spin-off from the Tickled Pink series, debuts on ABC, starring Tony Llewellyn-Jones, Penne Hackforth-Jones, Lucky Grills and Willie Fennell.
3 August 1992: While the Olympic Games are in progress on Seven, Nine's Sale Of The Century also takes on a sporting theme, with the start of the two-week 'Battle Of The Codes' contest, featuring players of Rugby League, Australian Rules, Rugby Union and Soccer.
3 August 2008: After 27 years, the final edition of Nine's morning current affairs show Sunday — Sunday, Nightline given the chop
3 August 2012: The final edition of Network Ten's mid-morning program The Circle — The Circle axed, but Breakfast stays.