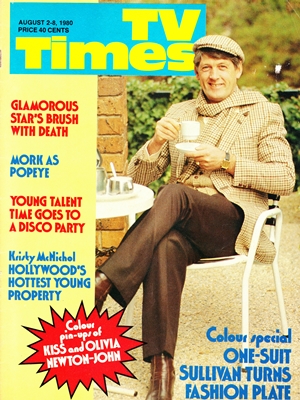 2 August 1980: Paul Cronin (The Sullivans)
2 August 1980: Lorraine Bayly (The Sullivans)
2 August 1997: Isla Fisher (Home And Away)
2 August 2003: Ada Nicodemou and Ben Unwin (Home And Away)
2 August 2008: Farmer Wants A Wife
---
2 August 1964: The second day's broadcast of ATV0 includes a repeat of the previous night's program preview, Seven Wonderful Nights, and the channel's first news bulletin, read by Brian Wright.
2 August 1993: John Mangos and Sharon Dale host the debut of Seven's new mid-morning magazine program At Home.
2 August 2010: SBS launches its new game show Letters And Numbers, an Australian  adaptation of the French show Des chiffres et des lettres and the long-running UK series, Countdown. Letters And Numbers was hosted by former ABC newsreader Richard Morecroft with writer David Astle and mathematician Lily Serna. Although production ended in 2012, Letters And Numbers continues to air in reruns on SBS.