Simon proposes to Angel
In the aftermath of the recent Summer Bay earthquake, Home And Away's Angel (Melissa George, pictured) receives a proposal from wealthy businessman Simon Broadhurst (Julian Garner) — but it was second time lucky for Simon. His first proposal was met with some indignation from Angel — feeling that he was buying her love at a time when her home had just been destroyed. His second proposal, at the surf club kiosk, was better received once he convinced Angel he really does love her and her children. But will she accept? Not only that, but Julian is also set to be tempted by the return of Joanna (Kimberley Joseph), who fancies herself as a potential Mrs Broadhurst.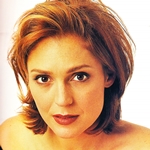 How's your Sex Life?
The Ten Network is reviving the Sex show formerly produced by the Nine Network. With the new title of Sex/Life, the new show will be hosted by Tottie Goldsmith (last seen on screen in Seven's Fire and soon to appear in Foxtel's Shark Bay) but will take a somewhat different approach to the former Nine program. "I'm a lot older than Sophie Lee (the previous host) was," Goldsmith (pictured) told TV Week. "What Tim (Clucas, the show's executive producer) was going for was not a titillating person to host it. He wanted a bit more maturity and a bit more integrity in the show, I think."
Alison's Starr turn
Alison Whyte, best known for playing Emma in Frontline, has begun work on her new role as Stella Starr in Nine's new Good Guys Bad Guys. "The role of Stella is such a good one," she told TV Week. "She is a very frank individual. The producers, Simpson Le Mesurier (Halifax fp), have such a great track record, and that's a major attraction, too." Good Guys Bad Guys is centred around the role of Elvis Maninnis (Marcus Graham), a former cop from a criminal family who has connections on both sides of the law. Despite his intentions to distance himself from his past, it has a habit of catching up with him. Meanwhile, Whyte is expected to return to the role of hard-working current affairs producer Emma in Frontline, which is due for a third series in 1997.
It's a Mac attack!
Jacki MacDonald (pictured), best known for her years on Hey Hey It's Saturday but last seen on Derryn Hinch's Midday, is returning to TV to host Foxtel's new travel channel, Fox Travel. As well as introducing the various shows to appear on the channel, the 14-time TV Week Logie Award winner will be hosting her own one-hour program, Jacki MacDonald's Destinations.
Briefly…
Ally Fowler, last seen in Nine's Law Of The Land, is likely to be Gary Sweet's leading lady in the new Network Ten series Big Sky. "She has all but signed on the dotted line," according to an inside source. Production on Big Sky is due to commence in late August with the series to debut on air early in 1997.
Fast Forward stars Steve Vizard and Peter Moon are making a return to our screens. The pair will be appearing in a series of sketches on Full Frontal. "I'm back because I like to put funny wigs on," Vizard told TV Week. "Come to think of it I do that at home, anyway!"
Former Dallas star Linda Gray, on a recent visit to Australia, has filmed a segment for an upcoming edition of This Is Your Life. But it has not been revealed which upcoming This Is Your Life subject receives her tribute.
The two-hour telemovie which serves as the debut episode of Nine's Good Guys Bad Guys is to feature Nadine Garner, Sophie Lee and former The Box and Sons And Daughters star Belinda Giblin.
It's been a long wait, but Friends is finally making its Australian debut. The hit US sitcom has taken two years to get to Australian screens, largely due to a battle between the Seven and Nine networks for rights to the show. The series about a group of six New York singles debuts this week on Seven, screening on both Monday and Thursday nights.
TV's National Top 10 (Week Commencing 14 July 1996):
Source: AC Nielsen Australia Pty Ltd
| | | | | |
| --- | --- | --- | --- | --- |
| Rank | Program | Network | Day(s) | Viewers |
| 1 | Olympic Games Opening Ceremony | Seven | Sat | 3079000 |
| 2 | Blue Heelers | Seven | Tue | 2364000 |
| 3 | Better Homes And Gardens | Seven | Tue | 2310000 |
| 4 | The Great Outdoors | Seven | Tue | 2244000 |
| 5 | Burke's Backyard | Nine | Fri | 2208000 |
| 6 | ER | Nine | Thu | 2169000 |
| 7 | The Nanny (repeat) | Ten | Sun | 2079000 |
| 8 | Seven Nightly News | Seven | Sat | 2067000 |
| 9 | The Nanny | Ten | Sun | 2057000 |
| 10 | Our House | Nine | Wed | 2020000 |
Program Highlights (Melbourne, August 3-9):
The Games Of The XXVI Olympiad: Olympic Games coverage continues over the weekend for the last two days of competition, including the Men's Marathon (9pm Sunday, Seven). The Closing Ceremony (11am Monday, Seven) includes the handing over of the Olympic flag to representatives of the Sydney 2000 Olympic Committee. The Closing Ceremony is repeated in prime time (8.30pm Monday, Seven).
Saturday: John Higginson and Rebecca Gibney are among the actors voicing the new animated series The Silver Brumby (3.30pm, Ten). In the series return of Ocean Girl (5.30pm, Ten), the Bates family holiday is cut short when the fish breeding grounds are destroyed.
Sunday: AFL Sunday (2pm, Seven) features Sydney Swans versus Melbourne, live from Sydney, followed by West Coast Eagles versus Essendon (4pm, Seven), live from Perth. In Sun On The Stubble (6pm, ABC), Dad (Christian Kohlund) finally buys a car, but the advanced technology of the Model T remains a mystery to him. In the series final of Banjo Paterson's The Man From Snowy River (6.30pm, Nine), the ruthless husband of Emily's (Sheryl Munks) schoolfriend holds Patersons Ridge to ransom. Sunday night movies are Ghost (repeat, Nine) and Wide Sargasso Sea (Ten).
Monday: In Neighbours (6.30pm, Ten), Libby (Kym Valentine) and Darren (Todd MacDonald) trip to the beach has been more than successful. In Water Rats (7.30pm, Nine), Harrison (Peter Mochrie) is called to negotiate with a potential suicide on the Sydney Harbour Bridge.
Tuesday: In Home And Away (7pm, Seven), the memory of Shane still comes between Angel (Melissa George) and Simon (Julian Garner). In GP (8.30pm, ABC), Henry (Steve Bisley) is drawn into a dispute between two brothers and their small business operation. In Blue Heelers (8.30pm, Seven), Maggie's (Lisa McCune) deepening relationship with her university tutor causes sparks with PJ (Martin Sacks) as they investigate the death of a young ballet dancer.
Wednesday: In Neighbours (6.30pm, Ten), Karl (Alan Fletcher) is tired of Darren's (Todd MacDonald) involvement with Libby (Kym Valentine). Better Homes And Gardens co-host John Jarratt (pictured) hosts the new series, Australia's Strangest Home Improvements (8pm, Seven). The documentary Nobody's Children 7 Years On (8.30pm, ABC) features David Goldie tracking down the street kids he spoke to seven years ago and finds out what has happened in their lives since then.
Thursday: In Getaway (7.30pm, Nine), Lochie Daddo looks at the luxurious penthouse apartments where the rich and famous stay on Queensland's Gold Coast, and later he stays in a pyramid in the Grampians National Park in Victoria; while Rebecca Harris embarks on a 1600km, four-day mountain bike ride from Kalgoorlie to Uluru. Tottie Goldsmith hosts the new series Sex/Life (8.30pm, Ten).
Friday: Peter Luck (pictured) hosts the new series Where Are They Now? (7.30pm, Seven), checking in on some former famous and infamous faces — including catching up with Don Adams of Get Smart fame. The new series Emergency 000 (8pm, Seven) goes behind the scenes with emergency services personnel. Friday Night Football (8.30pm, Seven) features Fremantle versus Collingwood, live from Perth.
Source: TV Week (Melbourne edition), incorporating TV Times and TV Guide. 3 August 1996. Pacific Publications Pty Ltd.