24 August 1974: Paul Cronin (Matlock Police)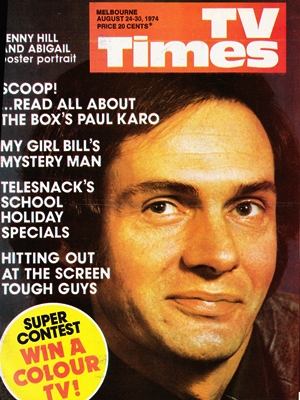 24 August 1974: Paul Karo (The Box)
24 August 1991: Melissa Tkautz and Bruce Samazan (E Street)
24 August 1996: Melissa George (Home And Away)
24 August 2002: Peter Phelps (Stingers)
24 August 2002; Myles Pollard and Bridie Carter (McLeod's Daughters)
---
24 August 1982: ABC debuts a ten-part drama series, Winner Take All, starring Ronald Falk, Diana McLean, Tina Bursill, Briony Behets, Peter Curtin, Mercia Deane-Johns and Sean Myers. The series has a big business theme and is set around a fictional mining company.
24 August 2002: The hit '80s dating show Perfect Match makes a return with a new version on Seven hosted by Shelley Craft, formerly of Saturday Disney.
24 August 2007: SBS begins HotSpell, a spelling contest screening over ten consecutive nights with contestants aged nine to 13, hosted by Michael Tuahine.