The 62nd annual TV Week Logie Awards were meant to happen today, Sunday 28 June. While the awards will not be taking place this year, we continue the annual rundown of past Logies presentations to coincide with what would have been Logies weekend. We wrap up the weekend with the Logies of 2010 — 10 years ago…
Home And Away actor Ray Meagher was awarded the TV Week Gold Logie for Most Popular Personality on Australian Television at the 52nd annual TV Week Logie Awards.
The awards, held at Melbourne's Crown Casino on Sunday 2 May 2010, were hosted by Bert Newton, presenting the Logies for the 20th time, and broadcast on the Nine Network.
Despite Meagher's 40-year career, including 22 years on Home And Away, it was his first Logie award. He beat fellow nominees Esther Anderson (Home And Away), Wil Anderson (The Gruen Transfer), Rebecca Gibney (Packed To The Rafters), Adam Hills (Spicks And Specks), Paul McDermott (Good News Week), Rove McManus (Rove and Are You Smarter Than A Fifth Grader?) and Shaun Micallef (Talkin' 'bout Your Generation).
Home And Away also won an award for actor Luke Mitchell as Most Popular New Male Talent. Seven's other drama Packed To The Rafters also swept up several awards — Most Popular Drama Series, Most Popular Actress (Rebecca Gibney) and Most Popular Actor (Hugh Sheridan).
Seven also won Most Outstanding News Coverage for Seven News' coverage of the Black Saturday bushfires in Victoria and Most Outstanding Sports Coverage for the V8 Supercars: Supercheap Auto Bathurst.  Better Homes And Gardens won Most Popular Lifestyle Show.
The Ten Network was rewarded with two Logies for the first series of Masterchef Australia, including Matt Preston winning the Graham Kennedy Award for Outstanding New Talent. Celebrity game show Talkin' 'bout Your Generation won three Logies, including Shaun Micallef for Most Popular Presenter. The 7PM Project (as it was called then) scored a win with Carrie Bickmore winning Most Popular New Female Talent, and Bondi Rescue won Most Popular Factual Program.
The Nine Network came away with only one award from the night — for The Footy Show (NRL) as Most Popular Sports Program.
ABC won awards for Most Outstanding Children's Program (My Place, ABC3) and for its Four Corners report, "Code Of Silence". SBS drama series East West 101 won two Logies – Most Outstanding Drama and Most Outstanding Actor (Don Hany) – and the telemovie Saved won Most Outstanding Actress for Claudia Karvan.
The tribute to those in the industry that have passed away in the previous 12 months featured a performance by PJ Lane, the son of Don Lane, and stars from the earlier days of In Melbourne Tonight and The Don Lane Show, including Philip Brady, Toni Lamond, Patti Newton, John Michael Howson, Rhonda Burchmore, Maria Venuti, Debra Byrne and Geoff Harvey.
Newton, hosting the awards solo for the first time since 1993, did an admirable job for what had well become one of the toughest gigs in television – keeping up the tradition of topical humour as well as a candid interview with guest k.d. Lang. Restoring Newton to the hosting role could be regarded as a safe option after previous years' instability in the Logies hosting, but he did well to restore some of the Logies' sense of occasion.
Newton also presented an excellent introduction to the Hall of Fame presentation, with former Melbourne newsreader Brian Naylor posthumously inducted in the TV Week Logie Awards' Hall of Fame. The tribute to the former TV host and newsreader included speeches by three of Naylor's former colleagues, Mal Walden, Peter Hitchener and Peter Mitchell.
Musical performances came from Gabriella Cilmi, k.d. Lang, John Mayer and the Rogue Traders. Overseas guests included Johnny Galecki (The Big Bang Theory), Walton Goggins (The Shield) and Australian actress Yvonne Strahovski, then starring in the US series Chuck.
PUBLIC VOTED AWARDS:
GOLD LOGIE: MOST POPULAR PERSONALITY
Ray Meagher, Home And Away
SILVER: MOST POPULAR ACTOR
Hugh Sheridan, Packed to the Rafters
SILVER: MOST POPULAR ACTRESS
Rebecca Gibney, Packed to the Rafters
SILVER: MOST POPULAR PRESENTER
Shaun Micallef, Talkin' 'Bout Your Generation
MOST POPULAR DRAMA:
Packed to the Rafters, Seven
MOST POPULAR REALITY:
MasterChef Australia, Ten
MOST POPULAR NEW TALENT: MALE
Luke Mitchell, Home And Away
MOST POPULAR NEW TALENT: FEMALE
Carrie Bickmore, The 7PM Project
MOST POPULAR LIFESTYLE:
Better Homes and Gardens, Seven
MOST POPULAR LIGHT ENTERTAINMENT:
Talkin' 'Bout Your Generation, Ten
MOST POPULAR SPORTS:
The Footy Show NRL, Nine
MOST POPULAR FACTUAL:
Bondi Rescue, Ten
OUTSTANDING AWARDS:
GOLD LOGIE — TV WEEK LOGIE AWARDS' HALL OF FAME:
Brian Naylor
SILVER: MOST OUTSTANDING ACTOR:
Don Hany, East West 101
SILVER: MOST OUTSTANDING ACTRESS:
Claudia Karvan, Saved
SILVER: MOST OUTSTANDING DRAMA SERIES, MINISERIES OR TELEMOVIE:
East West 101, SBS One
MOST OUTSTANDING NEWS COVERAGE:
Victorian Bushfires, Seven News
MOST OUTSTANDING PUBLIC AFFAIRS REPORT:
Code of Silence, Four Corners, ABC1
MOST OUTSTANDING LIGHT ENTERTAINMENT:
Talkin' 'Bout Your Generation, Ten
MOST OUTSTANDING SPORTS:
V8 Supercars: Supercheap Auto Bathurst, Seven
MOST OUTSTANDING CHILDREN'S:
My Place, ABC3
MOST OUTSTANDING FACTUAL:
Law And Disorder, SBS One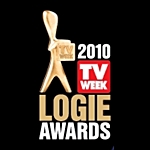 GRAHAM KENNEDY AWARD FOR MOST OUTSTANDING NEW TALENT:
Matt Preston, MasterChef Australia
Source: TV Week, 1 May 2010, 15 May 2010.