Chelsea Brown, the American actress and performer who made Australia her home, has died at the age of 69.
Born in Chicago, Brown rose to fame as a performer in the hit 1960s comedy series Rowan And Martin's Laugh-In.
She also featured in The Flying Nun, Love American Style, Ironside, Marcus Welby MD and The Name Of The Game.
In the mid-1970s Brown came to Australia. While working on a cabaret act she appeared in the short-lived series King's Men and the ABC telemovie Arena.
She was a regular panellist on game shows Celebrity Squares (pictured below) and Blankety Blanks and played the part of nightclub performer Hope Jackson in Number 96.
There were plans to spin-off Brown's character into a separate series, Hope'll Help, but it didn't get past the pilot stage.
She later starred as Abby Rossiter in E Street and went on to marry co-star Vic Rooney.
After Rooney's death Brown returned to the US. She died earlier this week in Chicago.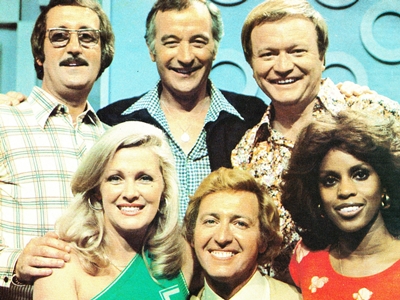 Source: TV Tonight, The Morning Show, IMDB, Wikipedia, The Number 96 Home Page. TV Week, 24 January 1976.