Hello, Sailor!
Martin Henderson (pictured with Isla Fisher) sails into Home And Away as Sub-Lieutenant Geoff Thomas, on board a Royal Australian Navy patrol boat cruising the waters near Summer Bay in search of an errant World War II mine. It's not long before the sailor sets eyes on Shannon (Fisher) and recognises her from her book. They're soon spending more time with each other before falling in love. "It's all quite sweet really," Henderson told TV Week. "He enjoys her company. She's a lovely, intelligent, fun-loving, pretty young woman." But like any soapie romance, things are not what they seem, as a dark secret is about to be revealed.
Lisa's golden opportunity
Most elite sporting identities go on to media roles such as television commentary after retirement — but former champion swimmer Lisa Forrest took a different path. She began studying acting, both in Australia and overseas, followed by presenting stints on Everybody, Midday and on Sydney radio, but still could not get that big acting break. "I couldn't even get an audition because people were going, 'Oh, she's a swimmer'," Forrest told TV Week. Her luck has since changed and she is now starring in Network Ten's new medical drama Medivac, playing the part of intern Dr Marina Zamoyski.
New kid on the block, again
Former Heartbreak High star Sal Coco this week makes his debut as rookie Joseph Antonio Cardillo in the series return of Police Rescue. For Coco, joining the cast of a well-established drama was a challenge. "It was like arriving at a new school when all the relationships were already established," he told TV Week. "I had to start all over again and earn their respect. I learned so much from the crew and so much from the cast." This week's return of Police Rescue marks the beginning of the show's fifth and final series, though Coco is confident his new role marks a new phase in his career. "I've just landed a part in my first film. It is called Heaven's Burning and is written by Louis Nowra (Cosi). When you have someone like him writing, well I just knew I wanted to be in it."
Ryan's last stand
Logie Award-winning actor Richard Roxburgh (pictured) has scored the lead role in an upcoming telemovie about the life of Ronald Ryan, the last man to be hanged in Australia. The Last Of The Ryans is a joint venture between the Nine Network and Crawfords Australia and goes into production in Melbourne in November. Nine is tipped to air the telemovie early in 1997, coinciding with the 30th anniversary of Ryan's death.
Briefly…
Production is due to begin this week on Foxtel's new panel show, a revival of Beauty And The Beast. Sydney radio man Stan Zemanek is the show's "beast", while the cast of beauties so far includes Rose Hancock, Lisa Wilkinson, Kate Fischer and Jo Bailey. Beauty And The Beast is to screen on the Fox Talk channel.
Aaron Pedersen, starring in Seven's new telemovie The Territorians, is tipped to join the cast of Trackers, a new drama pilot to go into production for Seven.
Seven's Where Are They Now? has featured a reunion of cast members of A Country Practice, the series which ran for 12 years on both Seven and Ten networks. Gordon Piper and Georgie Parker (pictured) were also joined by Brian Wenzel, Syd Heylen and Grant Dodwell.
Former child star Gary Coleman, best known as Arnold in the US sitcom Diff'rent Strokes, is currently in Australia to appear on Sale Of The Century's 40 Years Of Television Celebrity Challenge.
Anthony Grundy, currently a third-year drama student at Queensland's University of Technology and now starring in Medivac, has a familiar surname. His father is a cousin of legendary television producer Reg Grundy.  "It's funny to have someone like that in your family. I've never met him, but I've heard plenty of family stories," he told TV Week.
TV's National Top 10 (Week Commencing 25 August 1996):
Source: AC Nielsen Australia Pty Ltd
| | | | | |
| --- | --- | --- | --- | --- |
| Rank | Program | Network | Day(s) | Viewers |
| 1 | Blue Heelers | Seven | Tue | 2234000 |
| 2 | Better Homes And Gardens | Seven | Tue | 2062000 |
| 3 | The Great Outdoors | Seven | Tue | 2009000 |
| 4 | The X FIles | Ten | Wed | 1887000 |
| 5 | Burke's Backyard | Nine | Fri | 1881000 |
| 6 | Getaway | Nine | Thu | 1838000 |
| 7 | A Current Affair | Nine | M-F | 1828000 |
| 8 | The Nanny | Ten | Sun | 1804000 |
| 9 | National Nine News | Nine | M-F | 1801000 |
| 10 | National Nine News | Nine | Sun | 1783000 |
Program Highlights (Melbourne, September 14-20):
Saturday: Beyond 2000 (2.30pm, Ten) reports on a car that drives on both land and water. Gladiators (7.30pm, Seven) features the second heat in the Army versus Navy Challenge.
Sunday: In Talk To The Animals (6.30pm, Seven), Jane Holmes watches dogs strut their stuff on the catwalk, and Kelly Pommeroy goes on the rounds with a horse vet. Sunday night movies are Tina — What's Love Got To Do With It (Seven), Last Action Hero (Nine) and Far And Away (Ten).
Monday: In Home And Away (7pm, Seven), Rebecca (Belinda Emmett) begrudgingly begins to accept Marilyn (Emily Symons). Sale Of The Century (7pm, Nine) begins its 40 years of television celebrity challenge. The two-hour special 40 Years Of Television — The Reel History (8.30pm, Nine) takes a lot at Australia's television history and the trends that have shaped our viewing habits, with segments presented by Ray Martin, Paul Cronin, Elizabeth Hayes, Jo Beth Taylor and special guest Henry Winkler.
Tuesday: In Neighbours (6.30pm, Ten), Stonie (Anthony Engelman) has returned from his visit to Tasmania with a surprise for Angie (Lesley Baker); while Malcolm (Benjie McNair) finds it difficult to maintain his relationship with Shona (Bryony Price). In GP (8.30pm, ABC), Henry (Steve Bisley) is forced to question everything he believes in when his medical lecturer from university comes to him with an undiagnosed brain tumour.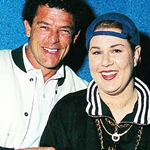 Wednesday: In Home And Away (7pm, Seven), Steven (Adam Willits) pushes Travis (Nic Testoni) too far. Action game show Who Dares Wins (7.30pm, Seven) features a celebrity special, with six Seven Network personalities (including Full Frontal's Julia Morris, pictured with host Mike Whitney) taking part in some of the show's trickiest dares. In Medivac (9.30pm, Ten), Arch (Grant Bowler) is at the centre of a drunken brawl and must then return to the hospital to treat one of the injured.
Thursday: Getaway (7.30pm, Nine) presents a special episode covering Great Britain, including a campervan tour of Wales, touring the Scottish Highlands by train, cycling through the Cotswold region, and taking a working holiday in England.
Friday: In Home And Away (7pm, Seven), Fisher (Norman Coburn) is mysteriously poisoned and collapses in the diner. Don Lane hosts the special 40 Years Of Television — Then And Now (8.30pm, Nine), taking a look at some of the big TV stars of yesteryear and finding out where they are now. In the series return of Police Rescue (8.30pm, ABC), three rookies are vying for two places in the squad, and all are thrown in at the deep end in a dramatic rescue.
Source: TV Week (Melbourne edition), incorporating TV Times and TV Guide. 14 September 1996. Pacific Publications Pty Ltd.