Lisa's caught out of uniform!
Blue Heelers' Lisa McCune (pictured) says the longer she plays Constable Maggie Doyle the more she realises how different she is from the character. "Maggie would think Lisa was a total twit!," McCune told TV Week. "If they were cousins, I couldn't see them getting along. Maggie would hate everything about me because I am on TV. She wouldn't consider the entertainment industry a very worthwhile thing to be involved in." After more than 100 episodes, McCune is still delighted to be in the show. "I really love it. We've got a great team. Blue Heelers is very much a company show. It's not that someone's a star — it's a team effort, and that's why it's so successful."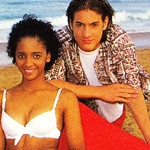 Summer Bay shake-up!
The cast line-up of Home And Away has taken on some considerable changes in recent times. Dieter Brummer, Daniel Amalm and Dennis Coard have all exited the series, while two new faces (pictured) have joined the cast. Peter Scarf joins the series as rich brat Liam Tanner, and Fleur Beaupert enters as Stephanie, the sister of a girl Travis (Nic Testoni) dated while in Somalia. The changes to the cast have necessitated the production of new opening titles for the series. The new opening sequence, filmed on location at Sydney's Palm Beach, makes its debut next week.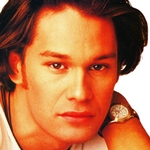 Corey's city success
Former Heartbreak High star Corey Page (pictured) might be starring in a New York-based soap, The City, but he still sees himself as a boy from Broken Hill. "When I arrived (in New York) in May 1995, I hated it. I was so depressed," he told TV Week. "I thought, 'What the hell am I doing here? Have I made the right career decision?'. I just wanted to go home to Australia. I actually did go home at Christmas. I was so excited about going back to Broken Hill. But now I'm back in the swing of things. I'm enjoying it a lot more. I think my perspective on New York has changed. I'm more positive about the whole thing now." The City, formerly called Loving, is being shown in Australia on Foxtel's fX channel.
Briefly…
Nine's The Price Is Right has celebrated its 500th episode. Since it began two years ago the show has given away $7 million in prizes and featured 3000 contestants.
Rowena Wallace, currently filming Shark Bay for Foxtel, is tipped to join the cast of Nine's Pacific Drive. The Gold Logie winner is expected to play the mother of Joel Ritchie (played by Adrian Lee).
The Seven Network is going ahead with a second series of action-based game show Who Dares Wins.
TV's Top 20 (Week Commencing 14 April 1996): 
| | | | | |
| --- | --- | --- | --- | --- |
| Rank | Program | Network | Day(s) | Viewers |
| 1 | Blue Heelers | Seven | Tue | 2167000 |
| 2 | ER | Nine | Thu | 2023000 |
| 3 | Our House | Nine | Wed | 1950000 |
| 4 | Burke's Backyard | Nine | Fri | 1918000 |
| 5 | Zoo Doctor | Nine | Thu | 1915000 |
| 6 | JAG | Seven | Mon | 1904000 |
| 7 | Better Homes And Gardens | Seven | Tue | 1832000 |
| 8 | National Nine News | Nine | Sun | 1807000 |
| 9 | The Great Outdoors | Seven | Tue | 1804000 |
| 10 | Home Improvement | Seven | Sun | 1796000 |
| 11 | A Current Affair | Nine | M-F | 1766000 |
| 12 | National Nine News | Nine | M-F | 1747000 |
| 13 | 60 Minutes | Nine | Sun | 1718000 |
| 14 | Weddings | Nine | Wed | 1714000 |
| 15 | Chicago Hope | Seven | Wed | 1667000 |
| 16 | National Nine News | Nine | Sat | 1656000 |
| 17 | The Nanny | Ten | Sun | 1631000 |
| 18 | Sale Of The Century | Nine | M-F | 1598000 |
| 19 | Ellen | Seven | Thu | 1582000 |
| 20 | Seven Nightly News | Seven | Sat | 1580000 |
Program Highlights (Melbourne, May 4-10):
Saturday: New lifestyle show Bright Ideas: The Home Improvement Show (12pm, Ten) promises "everything from purchasing a home to the range of home improvement options available". Meanwhile, sports quiz show A Question Of Sport (5.30pm, Ten) comes to its final edition after six months on-air. In Sweat (6.30pm, Ten), Sandy (Melissa Thomas) is forced to come to terms with the fact that her old school friend Robyn (Mouche Phillips) cares for nobody but herself.
Sunday: AFL Today (2pm, Seven) includes Fremantle versus Brisbane, live from Perth, followed by highlights of Footscray versus Carlton from the MCG. In Talk To The Animals (6.30pm, Seven), Steve Oemcke visits the Paradise Dog Centre on the Gold Coast and Richard Fitzgerald follows a shipment of koalas that leave for Japan. Sunday night movies are The Firm (Seven), Indecent Proposal (Nine) and LA Story (repeat, Ten).  Untold Desires, a recent TV Week Logie winner for Most Outstanding Documentary, is given a repeat screening (8.30pm, SBS).
Monday: In Home And Away (7pm, Seven), Haydn (Andrew Hill) decides to stay in Summer Bay; and Shannon (Isla Fisher) begins destroying her connections and memories of Alex (Nick Freedman). In Water Rats (7.30pm, Nine), there's a grim discovery in the harbour of a number of body parts. Healthy Wealthy And Wise (7.30pm, Ten) features Ross Greenwood's report on a group of young people who complete a week in the bush in order to get a job. The special, 100 Years Of Australian Football (8.30pm, Seven) looks at the stories, myths, personalities and tragedies behind the game.
Tuesday: In Neighbours (6.30pm, Ten), Luke's (Bernard Curry) post-chemotherapy becomes evident as he struggles to keep pace with Sam (Richard Grieve) and then falls asleep on the job. In Better Homes And Gardens (7.30pm, Seven), Full Frontal star Kitty Flanagan shows how to transform a window; and in The Great Outdoors (8pm, Seven), Ann-Maree Biggar visits Atlanta to check out preparations for the upcoming Olympic Games. In GP (8.30pm, ABC), Henry's (Steve Bisley) wife, Jenny (Anne Tenney, pictured), is diagnosed with cervical cancer and he is completely thrown by the thought of possibly losing her.
Wednesday: In Home And Away (7pm, Seven), Jack (Daniel Amalm) departs Summer Bay to join the Navy. The AFL Centenary Game (9.30pm, Seven) between Essendon and Geelong at the MCG marks the 100th anniversary of the first official round of football and features the two teams running out on the field in uniforms styled on yesteryear.
Thursday: In Home And Away (7pm, Seven), Angel (Melissa George) has trouble coping with Dylan (Corey Glaister) and the new baby. In Mercury (8.30pm, ABC), the media is publicising the plight of two Australian battlers who have lost their life savings in a bank heist.
Friday: Interfooty (4.30pm, Seven) is a new football show for children which looks at how to become an AFL player. In the series final of Fire (8.30pm, Seven), tensions rise when the sexual harassment case is leaked to the press; while Greta (Fiona MacGregor) confronts her future as a firefighter as pressure mounts from Spit (Wayne Pygram) to change her evidence against Nugget (Danny Adcock).
Source: TV Week (Melbourne edition), incorporating TV Times and TV Guide. 4 May 1996. Pacific Publications Pty Ltd.