Cover: Katrina Hobbs, Nic Testoni, Isla Fisher, Emily Symons (Home And Away)
'I wanted to be the next Ray Martin!'
Former model Nic Testoni is enjoying current success in Home And Away, having scored a TV Week Logie Award earlier in the year, but recalls his start in the industry was far from glamorous. "I thought, 'If I try (with community TV), maybe I might get somewhere. I'll host my own show. If Ray (Martin) can do it, why can't I?'," he told TV Week. Testoni's early days in community TV saw him work as a camera operator but also made on-screen appearances. "There were all kinds of people who would come in just to get a taste of the industry. We'd all dream about working for a network some day," he said. "I reviewed television programs such as Home And Away… even then I knew it was a great show. It was like living out a fantasy of being Ray Martin," he said. Testoni's move into commercial television followed with Network Ten's short-lived Level 23 and a role in Seven's comedy-drama Over The Hill. His appearance in Over The Hill caught the eye of Home And Away producers and a three-month guest stint in the series has turned into a permanent role.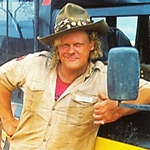 I dream of Genie
Mark Mitchell (pictured) says his latest role in the new series The Genie From Down Under is one of the most horrible he has ever played. "Otto van Meister is an appalling man," he told TV Week. "He's one of my favourite characters. It's a dream role. I love it!" Otto is an Outback tour guide in the 13-part series produced by the Australian Children's Television Foundation and BBC, and which debuts this week on ABC. The series also stars Monica Maughan, Rhys Muldoon, Fletcher Humphreys, Kylie Belling, Ian McFadyen, Glenn Meldrum and British actors Alexandra Milman and Anna Galvin.
Dash it, Tasma!
Western Australian-born actor Tasma Walton has beaten hundreds of applicants for the role of new constable Dash McKinley in Blue Heelers. It is actually Walton's return to the series, having appeared once before in a guest role. "It's going to be really challenging. It's one of the best shows in Australia to work on," she told TV Week.
Briefly…
The Nine Network has given the green light to a second series of Water Rats. "Our decision to proceed was easily reached when you consider Water Rats has consistently performed better than any other Australian drama in its first series," Nine's director of drama Kris Noble told TV Week.
Former Police Rescue star Jeremy Callaghan was in line for a role on Network Ten's new aviation drama Big Sky, but the network has told producers John Edwards and Sandra Levy that it does not want any former Police Rescue stars (other than Gary Sweet, who is already confirmed for the show) in the cast.
Aussie actor Julian McMahon is making the move from US daytime to prime time with a role in a pilot, Profiler. The NBC network has already ordered three episodes of the new series.
Good Morning Australia with Bert Newton (pictured) has celebrated 1000 episodes.
TV's Top 20 (Week Commencing 12 May 1996): 
| | | | | |
| --- | --- | --- | --- | --- |
| Rank | Program | Network | Day(s) | Viewers |
| 1 | Blue Heelers | Seven | Tue | 2253000 |
| 2 | ER | Nine | Thu | 2173000 |
| 3 | Better Homes And Gardens | Seven | Tue | 2135000 |
| 4 | Our House | Nine | Wed | 2027000 |
| 5 | National Nine News | Nine | Sat | 1969000 |
| 6 | National Nine News | Nine | Sun | 1922000 |
| 7 | The Great Outdoors | Seven | Tue | 1907000 |
| 8 | Ellen | Seven | Thu | 1866000 |
| 9 | JAG | Seven | Mon | 1847000 |
| 10 | Burke's Backyard | Nine | Fri | 1833000 |
| 11 | National Nine News | Nine | M-F | 1814000 |
| 12 | 60 Minutes | Nine | Sun | 1804000 |
| 13 | A Current Affair | Nine | M-F | 1758000 |
| 14 | Seven Nightly News | Seven | Sat | 1735000 |
| 15 | Hey Hey It's Saturday | Nine | Sat | 1735000 |
| 16 | Grace Under Fire | Seven | Thu | 1733000 |
| 17 | The X Files | Ten | Wed | 1676000 |
| 18 | Chicago Hope | Seven | Wed | 1670000 |
| 19 | Money | Nine | Wed | 1631000 |
| 20 | Home And Away | Seven | M-F | 1629000 |
Program Highlights (Melbourne, June 1-7):
Saturday: AFL Today (6pm, Seven) features the State Of Origin match, Victoria versus Allies, from the Melbourne Cricket Ground. Comedians Lano and Woodley (Colin Lane and Frank Woodley) are guest hosts on Hey Hey It's Saturday (6.30pm, Nine).
Sunday: AFL Sunday (2pm, Seven) features the State Of Origin, South Australia versus Western Australia, live from Adelaide. In Banjo Paterson's Man From Snowy River (6.30pm, Nine), a mysterious American stranger brings danger to Patersons Ridge. Sunday night movies are The Vanishing (Seven), Judicial Consent (Nine) and Groundhog Day (Ten).
Monday: New children's series The Genie From Down Under (5pm, ABC) makes its debut. In Neighbours (6.30pm, Ten), Cheryl (Caroline Gillmer) has been taken hostage and Lou (Tom Oliver) expects the worst, while trying to handle his fear and grief as best he can. In Home And Away (7pm, Seven), Alex (Nick Freedman) is blinded by the explosion. In Healthy Wealthy And Wise (7.30pm, Ten), Jim Brown visits the Future Farming Energy Expo, and Cherie Di Haas has some old-fashioned remedies for winter colds. Daryl Somers hosts Hey Hey By Request No.4 (8.30pm, Nine), another collection of clips from the Hey Hey It's Saturday archive; followed by delayed coverage of the Rugby League State Of Origin, New South Wales versus Queensland (9.30pm, Nine).
Tuesday: In Neighbours (6.30pm, Ten), Lou (Tom Oliver) decides to appear on television to try and help Cheryl (Caroline Gillmer) and Toadie (Ryan Moloney). In GP (8.30pm, ABC), Yasmin's (Leah Vandenberg) relationship with her lawyer boyfriend is compromised beyond redemption when she learns he is a fraud. Former Neighbours star Annie Jones (pictured) guest stars in Blue Heelers (8.30pm, Seven). The Crocodile Hunter special Return To The Wild (8.30pm, Nine) features Steve Irwin and his wife Terri returning to the wild to hunt and capture rogue crocodiles, the world's deadliest snakes and large lizards.
Wednesday: In Neighbours (6.30pm, Ten), Toadie (Ryan Moloney) and Hannah (Rebecca Ritters) may have found a pot of gold under the Kennedy house. In Pacific Drive (11.15pm, Nine), Trey (Lloyd Morris) is held hostage and narrowly escapes death.
Thursday: In Getaway (7.30pm, Nine), Catriona Rowntree (pictured) goes rafting in the caves and lakes beneath the Nullarbor Plains, and later travels over the River Kwai in Thailand. A special episode of Quantum (8pm, ABC) — titled I Compute, Therefore I Am — looks at the possibility of a conscious robot.
Friday: In Neighbours (6.30pm, Ten), Danni (Eliza Szonert) is shocked when she learns that Luke (Bernard Curry) will not continue his chemotherapy sessions. Friday Night Football (9.30pm, Seven) features a delayed telecast of Footscray versus North Melbourne from the Melbourne Cricket Ground.
Source: TV Week (Melbourne edition), incorporating TV Times and TV Guide. 1 June 1996. Pacific Publications Pty Ltd.