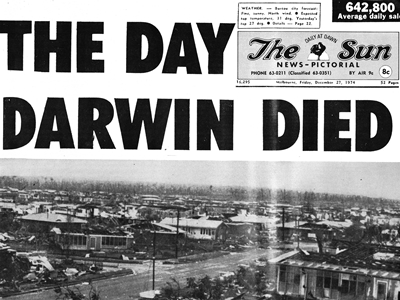 Christmas Day 1974 is forever remembered as the day that Darwin was flattened by Cyclone Tracy.
The destructive winds, measured to 200 km/h before the equipment itself failed, damaged or destroyed virtually every home and building in the tropical city. Seventy one people died and many more were injured.
Much of the city's 45,000 residents were deemed homeless, leading to a massive evacuation exercise that brought Darwin's population down to around 10,000 as the extensive clean up and reconstruction of the city was commenced. It would be another three years before Darwin's population was restored to pre-Tracy numbers as many chose not to return.
The cyclone took out Darwin's two television stations — ABD6 and NTD8 — and radio stations. ABD6, with the resources of the ABC as the national broadcaster, was able to get transmission restored within days, likewise with ABC's radio station 8DR. Commercial station NTD8 was less fortunate as it would be another ten months before it was able to renew service.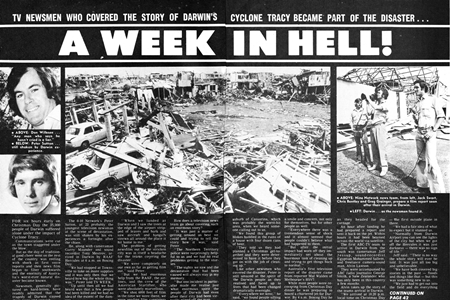 But while Darwin had been devastated on Christmas morning, much of the country remained oblivious to the extent of the disaster until much later in the day. Even news crews making their way to Darwin were unaware just how dire the situation was. Flying in via RAAF Hercules on Boxing Day morning, 0-10 Network reporter Peter Sutton said he and his crew, cameraman Garry Maunder and sound recordist Tony Mestrov, only learned of the significance of the damage when making a stop in Townsville. "It was only then that we heard how big the whole thing was," he told TV Week. "Up until then all we had heard was that a few people had been killed and we no idea of the extent of the damage When we landed at Darwin and I saw the trees at the edge of the airport stripped of leaves and bark and saw aircraft and hangars strewn all around the place it hit home to me."
With communications links out of Darwin severely impacted, getting the news to the rest of the country was a challenge. "We were completely on our own as far as getting film out," Sutton said. "But we had enormous help from the RAAF, the airlines and the crew of the American Starlifter, who were absolutely marvellous. We shot 6000 feet of film in the time we were there, we were sending film cannisters twice a day, and we didn't lose one."
The first television report from Darwin came from Mal Walden, then a reporter for HSV7, Melbourne. He had arrived at Darwin via a chartered jet just after 4.00am on Boxing Day. An hour after landing he had prepared a report and sent it back via the jet. Within hours the report had been beamed around the world via satellite. "Naturally it is one of those jobs you never forget, but as a reporting job it wasn't hard," he told TV Times years later. "The news was everywhere. All you had to do was point a camera and put a microphone at someone's mouth and you had a story. The big problem was getting the stories out of Darwin. I'd spend hours trying to get the reels of film on some sort of plane to Melbourne."
The first ABC crew to arrive in Darwin from the south included cameraman Jeff Jessup, sound recordist Mohammed Sallem and freelance camera-sound man Alvin Lawson. They were accompanied by ABC radio journalist George Smith. "We arrived at 10.20pm on Christmas Day — the first outside plane in there. We had a fair idea of what to expect but it stunned us. Normally from Darwin airport you can see the lights of the city but when we got off the Hercules it was just darkness — there was no sign of life," Lawson told TV Week. Cameraman Jessup added: "We have both covered big stories in the past — floods and things like that — but this was something new to us. We just had to get out into the field and do everything we could possibly do to get the story out the best way we could."
Another Seven Network reporter, Don Willesee from Sydney's ATN7, spent eight days in Darwin and said what he and his crew saw affected them deeply. "Any man who says he hasn't cried is a liar," he said. "Like most of the other reporters, I initially slept in the Travelodge, which had remained generally intact. For three nights there was no electricity and the stench was unbearable. We were so exhausted at night that we just flaked out. We had a serious drink problem, there was either warm soft drink, which was very scarce, or warm beer. One day, to stop dehydrating, I drank seven cans of beer. The first at 6am." Cameraman Nigel Jones had initially been dispatched to Sydney's Mascot Airport only to film footage of Darwin evacuees arriving in Sydney but he and sound assistant Jack Swart ended up "thumbing a lift" on a Navy plane to Darwin. "I had little money, no toothbrush, one set of clothes and only half my equipment," he said. "We had a torrid time for the first few days with no food, only warm beer to drink and no washing facilities. My clothes started to fall to pieces. During our eight-day stay I kept vomiting from the stench of rotten food which the police were dragging out of refrigerators."
Covering the disaster for the Nine Network were reporter Greg Grainger, cameraman Steve Richards and sound assistant Chris Bentley. "We arrived in Darwin early on Boxing Day and started filming. We had practically no sleep. The situation there was unreal," Grainger said. "The rigours of the tropic weather took its toll. The air was steamy and close and there was little to drink. Everywhere we went there was a story. We were lucky and got hold of some cans of fruit juice to ward off dehydration. We became part of the disaster, being moved around like everyone else. After three days or so we found a swimming pool full of water, which was a relief. We splashed water over our heads which was the best we could do to keep clean. Many times while we were working there the emotion almost overtook me. It was terribly sad."
Despite the lack of communications, infrastructure and basic facilities, media personnel were praised by the Director-General of the Natural Disasters Organisation for their conduct in what was a very trying and distressing time for the city of Darwin:
"It is to the credit of media representatives in Darwin that they willingly accepted the primitive facilities and cheerfully operated under great difficulties in common with the other citizens of Darwin."
"The conduct of media representatives located in Darwin reflected great credit on the Fourth Estate."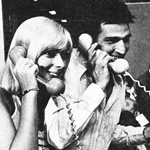 While the newsmen were in Darwin covering the disaster, viewers around the country were being urged to donate to the relief effort. The Nine Network, in association with regional television stations and News Limited newspapers, held a 28-hour national telethon across New Year's Eve and New Year's Day. The telethon required a massive effort by Nine staff, many who were recalled from Christmas holidays, with the technical assistance of the Postmaster-General's Department and the Overseas Telecommunications Commission. Personalities, sporting identities, politicians and performers from across the country donated their time to the cause — including Barry Humphries (and his close friend Dame Edna Everage), Bert and Patti Newton, Barry Crocker, Little Pattie, Johnny Farnham, Julie Anthony, Col Joye, Reg Lindsay, Lionel Long, Hal Todd, Michael Schildberger, Gerard Kennedy (pictured above with Miss Victoria, Ann Gilding) and The Kinsmen.
(Pictured above: Ros Wood, Barry Crocker and Dame Edna Everage; and below, Bert and Patti Newton.)
Appearing via satellite from London were John McCallum, Reg Varney, Keith Michell, Love Thy Neighbour star Kate Williams, Alan Hargreaves and Sandra Harris.
American-born Don Lane, formerly of TCN9 Sydney's Tonight show but since returned to the US, came back to Australia for the telethon. His return led to an invitation to host a new variety show which became the long-running The Don Lane Show.
Nine Network newsreaders Brian Henderson and Peter Hitchener hosted the telethon with only brief rest periods, while TCN9 sports commentator Ron Casey reported updates from the tally room.
At the end of the 28-hour telethon a total of $3,089,873 had been raised — exceeding Nine's expected target by $1.5 million.
A month after Cyclone Tracy a Film Australia documentary, When Will The Birds Return?, aired on ABC. Despite the massive amount of news coverage that had already come out of Darwin, the documentary presented to many an unseen depiction of the disaster as the city and its people comes to grips with loss while embarking on cleaning up and reconstruction.
TV Week columnist Eric Scott described it as a "masterful example of disciplined reporting":
"The film covered every aspect of Darwin as it is today — a town devoid of homes, trees without leaves — and the remaining people stolidly determined to lift the place back up again. The entire documentary left me breathless with admiration for everyone in that tropical town — the local citizens, the imported workers, the police, and the military. It was a story that smacked of quiet heroism in every cyclone-torn street, and, as a documentary, must surely be the best of this or any other time."
"In years to come maybe some movie company will develop the idea of re-creating Tracy in a big budget film. They will probably make a good job of it, but it could never bring home the message as potently as When Will The Birds Return?"
Over a decade after Scott's editorial there was a big-budget mini-series, Cyclone Tracy. But more on that tomorrow…
Tonight, at 8.30pm, ABC commemorates the 40th anniversary of Cyclone Tracy with the special Blown Away, promising a different perspective on the disaster, the subsequent reconstruction of Darwin and the long-term legacy of Tracy.
Source: The Sun News Pictorial, 27 December 1974. TV Times, 18 January 1975 TV Week, 8 February 1975. TV Week, 15 February 1975. TV Times, 27 January 1979. Cyclone Tracy